London 2012: Tom Daley hits back over Team GB coach comments
Last updated on .From the section Diving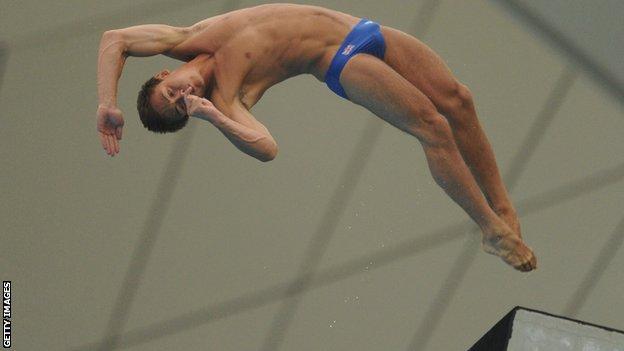 British diver Tom Daley has hit back at criticism from Team GB diving coach Alexei Evangulov.
The Russian warned Daley that he will miss out on an Olympic medal if he does not cut down on his media work.
But a statement issued on Daley's behalf said: "Diving, family and school have always been the priority for Tom.
"This is 90% of his life. This was agreed between Tom, his family and British Diving. Corporate, media work and friends form the remaining 10%."
Team GB diving coach Alexei Evangulov also said that Daley was not the best in the world and deserved to finish fifth at last year's World Championships.
Asked whether media work could affect the 17-year-old's London hopes, the former Russia coach said: "Yes. The people in Great Britain are mistakenly convinced that he is the best in the world, but he is not."
Plymouth-born Daley shot to prominence as one of Britain's youngest Olympic competitors at the 2008 Beijing Games, and followed that by becoming the country's first individual diving world champion when he won the 10m platform title at the age of 15 in 2009.
However, the teenager, who is likely to be one of Team GB's highest-profile athletes at London 2012, finished a distant 80 points behind Chinese champion Qui Bo at the 2011 World Championships.
"Fifth - that really was his rating at that moment," said Evangulov, Team GB's diving performance director.
"We are working hard to try to raise his rating position. He's very strong and he's one of the best, but he is not the best.
"If you look at the Chinese, they work three times harder. That's the only secret. Just work hard.
"I know how the Chinese are training and they work much harder. If you compare them to Thomas, he has many commitments in his media activities.
"He's very active, not like the Chinese. The Chinese have restricted their divers and I support them on this. I would recommend Tom to make not so many commitments to the media."
But the statement from the Daley camp countered the claims. "The comparisons with China may be relevant from a sporting perspective, but are less valid from a cultural and human one," it read.
"We turn down over 95% of media and commercial approaches for Tom. We only work with a small team of sponsors and ensure that any media is either necessary or - very occasionally - fun, given Tom's interest and studies in both photography and media.
"We fully agree that British public expectation is too high around Tom," they added.
"Qui Bo from China is very much the gold medal favourite. In tennis terms, he is Novak Djokovic, the man to beat following an unbeaten 2011. Qui Bo may yet become the greatest diver of all time. However we are all very focused on ensuring that Tom has every chance for success in London this summer."
Evangulov has some say in Daley's schedule away from training and has prevented British divers from taking part in media work in the two weeks before an event - other than for official British Swimming commitments.