Diving World Cup: Great Britain set for Aquatics Centre test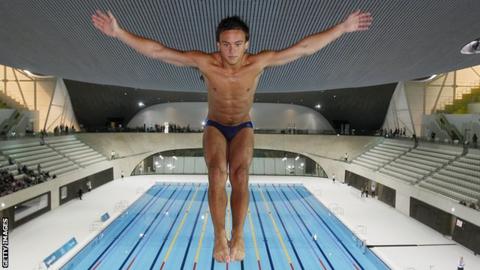 London World Cup, Olympic test event
Venue:

London Aquatics Centre

Date:

20-26 February 2012

Coverage:

Reports plus select action and reaction on the BBC Sport website. Twitter updates via @BritishSwimming and @NickHopeBBC
Great Britain's divers will be among the first athletes to compete at the Olympic Aquatics Centre when they take part in this week's Diving World Cup.
Former world champion Tom Daley and 2004 Olympic silver medallist Pete Waterfield will compete in London in an event featuring 44 nations.
It also gives Britain a final chance to secure Olympic places in the four disciplines not yet qualified for.
These include the men's and women's 3m springboard and women's 10m platform.
"There are two main aims for the World Cup, one is to obtain more Olympic positions, which is very important to us, and the other is to give our athletes the chance to compete against strong nations," GB performance director Alexei Evangulov told BBC Sport.
"Our weakest discipline is the women's springboard, both individually and in the synchro, but our goal is still to get the Olympic licences here at the World Cup and have representation in all disciplines at the Games."
Daley, who withdrew from last month's National Championships with a thumb injury, insists he is now fully fit but will only compete in the synchro event.
He and Waterfield have not competed together since finishing sixth at the World Championships in July last year and they spent the winter training period apart.
"We've had long breaks before and our coaches always say that when we get back together it seems as though we have never been apart, so it's great to have that kind of partnership," said Daley.
Last week the 17-year-old was forced to defend himself after Evangulov suggested the teenager's media commitments could hamper his Olympic medal prospects.
GB's performance director is, however, convinced that his squad can attain at least one podium place at the London Olympics.
The 10m platform divers Tonia Couch and Sarah Barrow came closest to the podium than any other GB divers at last year's World Championships, finishing just outside the medals in the synchronised event.
"Coming fourth was exciting because we did so well, although being that close to the bronze medal was tough, but this time we want to get that bronze, silver or even gold," Couch told BBC Sport.
Barrows added: "We're looking to put in a good performance at the World Cup and then the four world series events over the next couple of months. Hopefully if we do well in all of those it would be pretty tough to take away the [Olympic] spot."
Other names looking to draw support from the partisan crowd will include 3m springboard rising star Jack Laugher, who won two titles at last month's national championships, and 3m synchro pair Nick Robinson-Baker and Chris Mears.
The pair were seventh at last year's World Championships and compete on the opening day in London.
"We're absolutely buzzing," Robinson-Baker told BBC Sport.
"We're just five months out from the Olympic games. It will be my second, Chris's first, and we're just looking forward to walking on to that board and having a stadium full of people screaming for us."
Although some positions have been secured for Great Britain at the London Olympics, divers will have to wait until their national trials in June before learning which athletes will be selected for Team GB.