Tom Daley defended by diving partner Peter Waterfield
By Nick Hope
BBC Olympic sports reporter
Last updated on .From the section Diving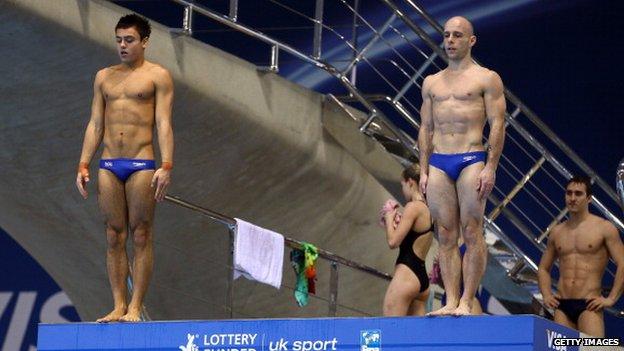 Peter Waterfield says disrupted preparation not Tom Daley's media work was behind the pair's poor performance at the World Cup event in London.
GB performance director Alexei Evangulov has claimed Daley could be hampering his prospects of a medal at the London 2012 Olympics.
"[Daley] wouldn't be one of the best in the world if he wasn't committed," Waterfield told BBC Sport.
"We didn't dive badly and miss our dive because of anything to do with him doing media or his sponsored stuff - it's all to do with us not being prepared."
Evangulov was again critical of Daley's approach after the duo's showing, likening the 17-year-old to former Russian tennis prodigy Anna Kournikova.
"It reminds me of the situation in Russia with Kournikova," he told the Daily Mail.
"She looked pretty and made a promising start to her career but the media exposure meant she never got to be the best. She is still in the celebrity news but she never achieved her full potential."
Daley pulled out of the National Championships last month with a thumb problem.
Injuries to Waterfield meant that prior to the World Cup event at London's Aquatics Centre the last time the pair had competed together was at the 2011 World Championships in July last year.
And Waterfield, who won silver at the 2004 Olympics with then partner Leon Taylor, believes those set-backs, rather than the wrong priorities, were behind their failure to perform well.
"We had a few injuries over Christmas and in January that have stopped us training together and you can't then expect us to turn up here and get medals.
"We could have been up there [among the medals on Thursday] but we just missed one dive and with better preparation hopefully we won't in five months' time."