Tom Daley says dispute with coach Alexei Evangulov resolved
Last updated on .From the section Diving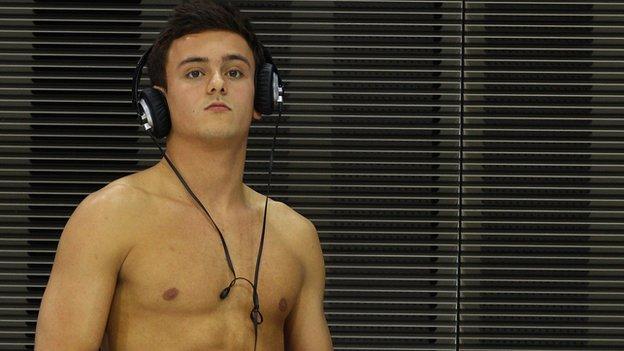 Diver Tom Daley says a row with GB performance director Alexei Evangulov is over after they held talks.
Daley, 17, attended a meeting on Friday with Evangulov, British Swimming and the teenager's management company.
"I am glad that we have addressed some important issues, discovered some new ones and that we are all fully committed to the same goal," he said.
In a statement, Daley described Evangulov as "one of the best performance directors in the world" and that he had "a lot more to learn from him".
"He is entitled to his opinions and of course I listen to them," said Daley.
Daley and partner Pete Waterfield finished seventh in the World Cup 10m platform synchronised event in London on Thursday as controversy surrounded Evangulov's comments.
"It reminds me of the situation in Russia with Kournikova," Evangulov told the Daily Mail.
"She looked pretty and made a promising start to her career but the media exposure meant she never got to be the best. She is still in the celebrity news but she never achieved her full potential."
Evangulov had already warned Daley he could be jeoparding his hopes of an Olympic medal and that his Chinese rivals "trained three times harder".
But, in a statement released on Monday, Daley said the Russian had approved his personal appearances for sponsors.
"We have readdressed some important issues regarding media work and interaction with fans, particularly when on duty for British Swimming or undertaking public appearances," said the two-time Commonwealth gold medallist.
Last week, a video was released of Daley and his Olympic diving team-mates taking a break from training in Australia to film a spoof music video.
He regularly interacts with fans on social networking sites Twitter, where he has more than 200,000 followers, and Facebook.
"Twitter and Facebook is fun. It is my generation," said Daley.
"It has never taken up any training or performance time and does nothing to impact my overall commitment."
Daley said he is due to appear in commercial campaigns before the London Olympics but that most of those commitments were completed last year.
"I know that I can perform when it matters and I am doing everything in my power to ensure I have the best chance of success. This is my priority," he said.
Daley, whose father Robert died of cancer in May 2011, added: "I am going to continue to learn and work hard and I am fully committed to being the best diver I can be.
"My dad always taught me to do my best. I can't control what other people do. I can just focus on my own performance, with the support and advice of my coaching team.
"That alone will determine if I deserve a medal. That alone will determine the result.
"I have always enjoyed my relationship with the media. However, I would ask you to respect that I am not going to answer any more questions on this subject as, for me, it is now closed."