London 2012: Rebecca Gallantree waiting for diving selection
Last updated on .From the section Diving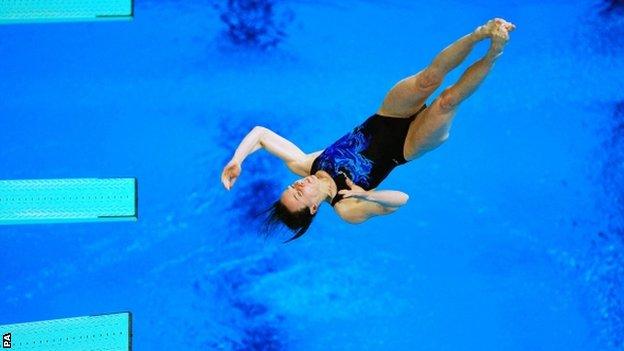 For the past six years Rebecca Gallantree has spent 30 hours a week, 50 weeks of the year honing her diving skills in a Leeds pool.
This summer, she could be representing Great Britain in an Olympic final on home soil - alongside a partner who she helped to discover as a child.
An appearance at a home Games would be the pinnacle of a 20-year career. But, despite finishing in the top 10 at last month's World Cup in the Olympic pool in London, Gallantree must wait until further trials in June to secure her place at the Games.
It's a case of so near, and yet so far.
"My parents have been out to Beijing and Delhi to see me in the past and luckily they have got some tickets to London as well," she told BBC Sport.
"If I don't qualify then I won't be going as I haven't got any tickets.
"It's tough not knowing but if we were selected now we might relax and take it for granted, so they choose in June to keep us on our game. They will take the divers in the best form - it's as simple as that."
Gallantree, 27, produced one of the performances of her career at February's World Cup, finishing ninth in the women's 3m individual springboard.
That guaranteed GB a spot in the Olympic competition - but not one that will necessarily be filled by Gallantree.
She must see off rivals from across the country, as well as club-mates Hannah Starling, 16, and Alicia Blagg, 15, to secure the spot.
Training every day with girls who are also obstacles to a once-in-a-lifetime opportunity has been hard, but is the nature of the sport.
"Training with Hannah and Alicia is great because it pushes me," said Gallantree.
"When I see them diving well it motivates me to improve, especially as they are so young.
"They have improved massively in the last few years, which spurs me on. I don't want them to catch me yet."
Gallantree could also line up for her country alongside Blagg in the 3m synchro event. Blagg has been a partner of Gallantree's since she was 12, and only took up the sport after she was spotted on a talent identification trip to her school.
Among the divers helping out at that time was Gallantree.
"We go into local schools and test the kids for various things, including jump height, flexibility and coordination," she explained.
"We can spot who may be a good diver from that and that is where Hannah and Alicia both came from. I was helping out with the testing when those two were discovered so I may have picked her out! I can't remember which schools I went to but it's possible. Now, we could be going to the Olympics together."
Gallantree does not yet know if she will continue diving after the Olympics, when a possible career in prosthetics awaits, but she is determined to make the Games after tasting the atmosphere at the World Cup.
"Having a home Olympics to look forward to has played a big part in keeping me motivated over the last few years," she says.
"It's a once-in-a-lifetime event. We experienced the feeling of everyone cheering for you last month, and it's incredible - like nothing I've ever felt before. It's so exciting to imagine what it will be like at the Games with a lot more people there."
And diving promises to be a main attraction in London thanks to the Tom Daley effect.
On a recent trip to Shanghai, Gallantree and Daley were among a tight-knit group of 11 divers representing their country. Team GB against the world. No stars, no egos.
On landing back in the UK, the first sight to greet them was a huge 20-foot billboard of Daley's face - a stark reminder that one of their own is set to be a poster boy for the whole Games.
But Gallantree insists there is no hint of envy or resentment within the sport - just gratitude that diving is finally getting the notice it deserves.
"The profile of diving has rocketed since Tom has been involved and in the spotlight," she said.
"So many more people know about diving now, and we get a lot more media coverage. The whole team are becoming more successful, which also helps.
"The next generation down have been encouraged to take up the sport, which can only be good in the long run."
Diving is on the up, and in her 20 years in the sport Gallantree has seen a lot of change.
After all the waiting, a place in the individual final on 5 August would make all those years of effort worthwhile.