Tom Daley set to compete in springboard and platform events
By Nick Hope
BBC Olympic sports reporter
Last updated on .From the section Diving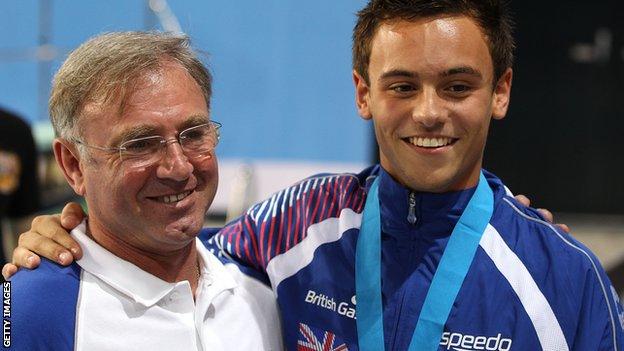 Tom Daley is set to compete in more 3m springboard events in a bid to improve his Rio 2016 medal prospects.
"I told Tom [three years ago] maybe you can become a good springboard diver as well," said Great Britain diving performance director Alexei Evangulov.
"He was laughing but now you see that this is a reality."
The Russian added: "Frankly speaking, I didn't plan a gold medal for Tom and Jack in the 3m.
"It was so amazing because when a platform diver makes a medal on springboard it's something special."
Evangulov drew comparisons with China's Ni Xiong, who, after winning silver at the 1988 Games and bronze in 1992 in the 10m platform event, went on to collect three golds in the 3m springboard golds over the next two Olympics.
Evangulov insists the 10m event will remain Daley's focus, but that competing at 3m would benefit the Great Britain team.
"The more pairs we have in the team the better because it creates internal rivalry," Evangulov said.
"We have a very strong pair in Nick Robinson-Baker and Chris Mears and if we have another pair it will be great for both."
Speaking after victory alongside Laugher last week, Daley told BBC Sport he was open to the idea of more springboard competitions.
"For me it's something that I do mainly for fun or as a warm-up," said Daley, who finished seventh in the 3m springboard at the 2011 Russian Grand Prix. He also won gold in the 10m platform last week.
"There is still the possibility of me doing the springboard for maybe the 2016 Games or the 2020 Games."
Seventeen-year-old Laugher, who won individual gold in the indivudual 3m and silver in the 1m, said: "Tom and I dived amazingly together after only a couple of weeks of training.
"We are great mates and it would be fun to compete with him, especially on my board, so I don't have to go up to 10m with him."
British junior development manager Julian Bellan, who led GB to six medals in Australia - their most successful World Junior Championships - warned Daley against competing in too many events.
"At an Olympic Games there are four events [individual and synchronised 3m and 10m]," Bellan told BBC Sport.
"We would be mad to try and get someone to do all four and three is also a bit of a push, but it's quite possible to see someone do a 10m individual and a 3m synchro - potentially Tom.
"There are different combinations, but what we need to do in the next couple of years is start building our best teams leading into Rio."