Peter Waterfield given six months' funding by British Swimming
Last updated on .From the section Diving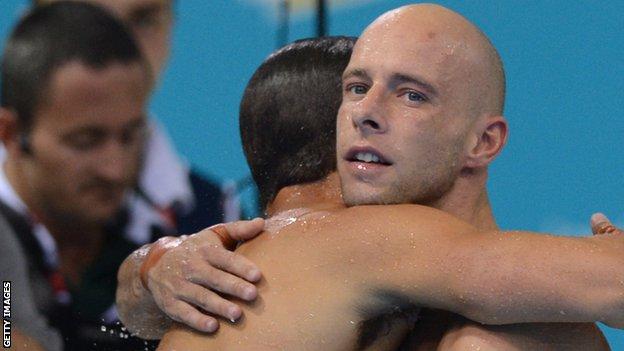 Olympic silver medallist Peter Waterfield will continue diving after the decision to cut his funding was overturned.
The four-time Olympian has now been given a new six-month contract by British Swimming.
"The contract is performance-based and will be looked at again after the world championships," said a spokesman.
They will take place in Barcelona in July.
Waterfield, who won silver at the 2004 games in Athens, was highly critical of British Swimming earlier this year after hearing second hand that his funding had been cut.
British Swimming had its budget reduced in the post-Olympic review but diving was handed a £1m boost.
Waterfield said at the time: "It's pointless to continue. I have to pay a mortgage, I have two kids to feed as well as a car to run. I struggle anyway.
"If I don't find another source of funding, not only will it be my career that's lost but my house and me and my wife and kids would be homeless."
Daley, who won gold in Sunday's 10m platform final at the World Series in Edinburgh revealed in February he was looking for a new partner.
"Peter is going to be too old to compete in the 2016 Games because his body's taken a battering over the years," Daley told BBC Radio Devon.