Tom Daley insists busy schedule helps his diving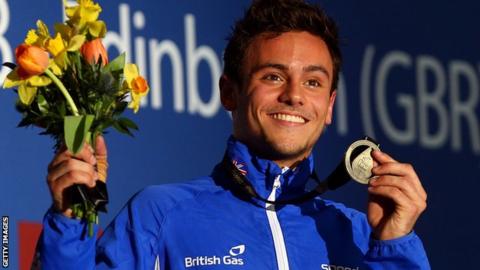 Olympic bronze medallist Tom Daley says a hectic schedule will aid his continued success in diving.
Daley, 18, who won Edinburgh World Series gold at the weekend, has been juggling training with studying for his A-Levels and appearing in ITV's Splash! programme in recent months.
"When I'm busy that's when I perform at my best," said Daley.
"I feel when I have time off and I am just diving I struggle, so it's good to have other things on my mind."
The double Commonwealth Champion has been criticised for his commitments outside of the sport. Last year, his mother, Debbie, wrote an open letter condemning British Swimming's chief executive David Sparkes for his public berating of her son.
Daley has repeatedly reiterated his commitment to diving but states that he also has to consider his post-athletic career.
"Diving is my main priority, it always has been and always will be until I retire because I want to make sure I give myself the best opportunity to do well," Daley told BBC Radio 2.
"But I want to be a TV presenter when I finish, so it's the same as doing school work if you want to set yourself up for a job - you need to study hard - and if you want to be a TV presenter you need to do a bit of TV work.
Daley added: "I enjoy it, it doesn't take time out of my training and it actually gives me extra motivation in training when I'm doing extra stuff."
British Diving performance director Alexei Evangulov, who has been critical of Daley in the past, now believes the Olympic bronze medallist is "absolutely committed" to the sport.
However, the Russian admits he was surprised by how well Daley performed at the Edinburgh World Series event.
"I'm very happy with his results because I perhaps expected a little bit less," Evangulov told BBC Radio 5 live.
"I estimated around 515 [points] for the beginning of the season, but he made 542.15 and claimed a [gold] medal against his great rivals [Victor] Minibaev and [Ivan] Garcia, so Tom did great."
Daley separated from synchronised diving partner Peter Waterfield, 32, after London 2012 and the 2004 Olympic silver medallist had his funding axed.
Although the 32-year-old has received a six-month funding reprieve through to this summer's World Championships, Evangulov would give no hint as to who would be partnering Daley in Barcelona.
However, he did suggest that Rebecca Gallantree, 28, who has also had her financial support restored on a short-term basis, is now back in contention in the women's synchronised 3m springboard line-up.
She and 16-year-old Alicia Blagg finished seventh at the London Olympics, but Blagg was due to partner fellow teenager Hannah Starling, 17, in the build-up to the 2012 Rio Games.
An injury to Starling saw the Gallantree and Blagg pairing restored earlier this year and they have since won World Series silver and bronze medals in their first two competitions of the season.