Tom Daley says World Championships final a miracle
By Nick Hope
BBC Olympic sports reporter in Barcelona
Last updated on .From the section Diving
British diver Tom Daley says reaching Sunday's 10m platform World Championships final in Barcelona is a "miracle" given his injury problems.
The Olympic medallist aggravated his right triceps muscle - which he tore in April - during training on Thursday.
He needed medical treatment between each round in Saturday's preliminaries and semi-finals and feels finishing on the podium will be difficult.
"Medals aren't really in the forefront of my mind," said the 19-year-old.
"Of course I would love to be able to go and get one but, with the preparation I've had, it's going to be tough and I know that it's kind of a miracle to be here and even compete."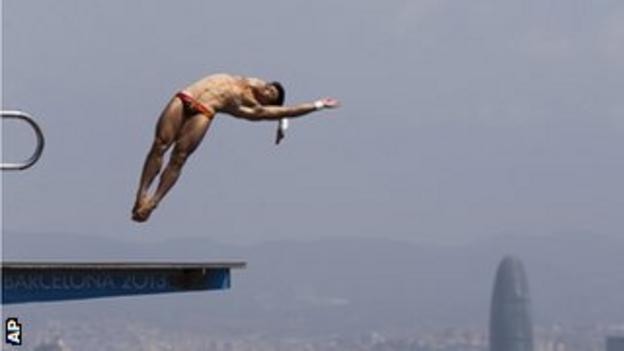 Whilst the teenager could attribute some of inconsistent qualification dives to his injury and the fact he only returned to full-time training at the beginning of the month, he was not the only athlete to struggle.
Defending world champion Qui Bo of China found himself bottom of the standings after the second round of the semi-finals before fighting his way back into contention.
"Anything can happen in diving," said Daley, who feels the outdoor pool is having an impact on some athletes.
"Qui Bo won the preliminaries and then in the semi-final he didn't do all that great - the wind is a big factor and also the sun plays a major role.
"Normally in an outdoor pool it goes from one side to another, whereas in this pool it comes right over the top, so the sun is in a really different place throughout the day, which is something you have to get used to."
Bo's score of 457.55 ranked him in sixth, just one place ahead of Daley in the semi-finals, but the pair were a long way behind US Olympic champion David Boudia, who achieved 534.4.
Mexican Ivan Garcia and German's synchronised 10m diving world champion Sascha Klein both impressed with 522.6 and 505.85 respectively and will be strong contenders for success on Sunday along with Russia's Victor Minibaev.
"I know it's going to be tough but I'm going to give it my best shot," stated Daley.