Blake Aldridge on cliff diving, Tom Daley and Britain's Got Talent

By Nick Hope
BBC Olympic sports reporter in Barcelona
Last updated on .From the section Diving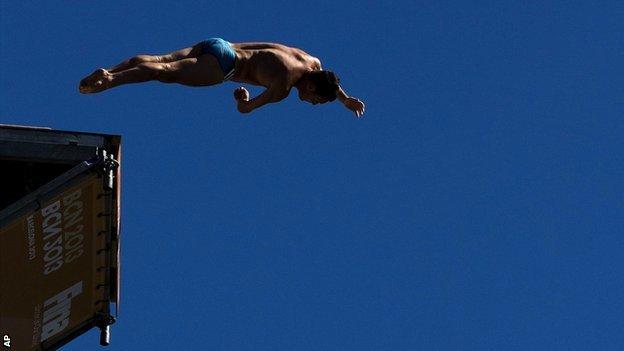 It is a sport Tom Daley says is for "crazy people", but former diving partner Blake Aldridge believes he has finally "found himself".
The sport of high diving, which grew out of competitive cliff diving, made its World Aquatics Championship debut in Barcelona this week.
Leaping from 27m - a height equivalent to an eight-storey building or six double-decker buses - divers reach speeds approaching 60mph and hit the water with such force - something like nine times greater than forces divers experience from a 10m platform - that they must enter feet first.
This new structured event, which sees competitors complete five routines over two days, is seen as a significant step towards the ultimate goal of Olympic recognition.
"It's absolutely amazing, it's death-defying," 30-year-old Aldridge told BBC Sport. "You're jumping off something you shouldn't jump off and fighting against every instinct in your body that says don't do it.
"Once you take off that platform there is no going back. It's an incredible feeling."
While Daley's profile has risen at a phenomenal rate since his appearance, aged 14, at the 2008 Beijing Olympics, the decline of Aldridge's has, at times, appeared almost as dramatic.
The pair looked destined for a glorious career together ahead of the 2008 Games but fell out after finishing eighth in the 10m synchronised final in China.
Aldridge, who won world junior diving gold in 1999, blamed Daley for their failure, claiming his partner was "over-nervous".
The following year, their partnership officially ended when Aldridge was forced to miss the British Championships after suffering facial injuries in an alleged assault outside a nightclub in Southampton.
It meant they could not qualify for the 2009 World Championships in Rome, where Daley went on to claim individual gold at the age of 15.
Things got worse for Aldridge. He was fined for shoplifting at a B&Q store around the same time, lost his UK Sport funding at the end of that season and was forced to give up 10m diving as a result of a long-standing shoulder problem.
Cliff diving gave him an opportunity to turn things around.
"I had a little bit of a flat year in 2009," admitted Aldridge. "I didn't know what I was going to do.
"I was invited out to Switzerland by a few friends I used to dive with when I was younger for the European cliff diving championship finals.
"I had never dived from higher than 10m, but I learned all of my dives and I walked away with the European title."
But while he conquered 20m with relative ease, 28m - the traditional height for events on the Red Bull World Series - was not quite so straightforward.
"Mentally, that extra eight metres is massive," said Aldridge, who won bronze at the La Rochelle World Series event earlier this year.
Fear is a natural reaction, even for the professionals leaping from great heights, but one of the biggest challenges for Aldridge was coping with the lack of training opportunities.
There are only a handful of 27m or 28m facilities around the world, but safety concerns mean divers are reluctant to use them.
Instead, they often use trampolines to gain a little extra height from the 10 platform and then piece the two halves of their rehearsed routine together when they arrive at a competition venue.
"It's been very different," said Aldridge. "You have to convince yourself that you have trained over and over when you haven't."
And if you don't get the dive right, the consequences can be catastrophic.
"Land flat and you die," is the stark assessment of Daley, who admits he would never be brave enough enter a cliff diving competition.
"Diving from 10m scares me every time I go up there, so going up onto a 27m platform would just be ridiculously scary."
Aldridge, who tore muscles in his groin after a bad dive last year, adds: "You've only got to be a little bit over or a little bit short of vertical and you'll take a really bad shot in your back and neck or on your chest and chin.
"There are fine lines between right and wrong. Even when you land perfectly, it still hurts a bit."
Any animosity between Daley and Aldridge has long since disappeared and the pair keep in touch. They even "had a cuddle" earlier this week when Daley stayed out in Spain after his own event to watch his former partner dive from 27m.
Their paths may have diverged since Beijing, but both divers found themselves with prime-time television audiences earlier this year.
Daley's celebrity diving programme Splash! ran from January to February, while Aldridge performed as part of the La Quebrada high diving team on Britain's Got Talent in May.
Some divers - but not Aldridge - set themselves alight during the routine, receiving "yes" votes from all the judges, although they missed out on a place in the live show.
"I'm pretty open-minded," said Aldridge. "But I thought setting myself on fire when I still have a career is probably not a great idea, so we left that to one of the other guys."
While Aldridge would clearly love a profile like Daley's, his primary concern is to help high diving gain greater recognition.
Neither he nor the other British divers competing in the 27m competition - Gary Hunt and Matt Cowen - are funded by the sport's national governing body and instead rely on help from sponsors, a situation Aldridge says is "frustrating".
A spokesperson from British Swimming said their involvement in the sport was "under review" but added that their focus "has to be on Olympic sports".
Aldridge is eighth heading into the final round of 27m diving on Wednesday, but believes he can still claim a second global title.
"I have one of the hardest dives in the world - a backwards hand-stand 2.5 somersault with four twists and a 6.3 degree of difficulty - so I can score a lot of points from that," he said.
"To be world champion in another sport would be a dream, but I just want to enjoy it and hopefully a good result will come."