US great Greg Louganis wants high diving at Olympic Games

By Nick Hope
BBC Olympic sports reporter in Barcelona
Last updated on .From the section Diving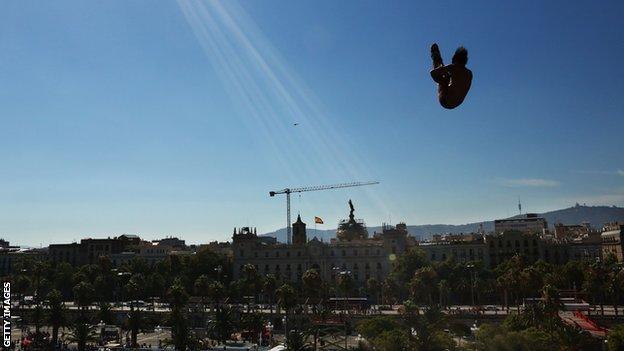 Former US Olympic diving champion Greg Louganis is backing calls for high diving to be included in future Games.
Louganis, 53, who won Olympic golds in 1984 and 1988, was a judge for the men's 27m high diving final as the sport made its World Championships debut in Barcelona this week.
Great Britain's Gary Hunt finished second behind Colombia's Orlando Duque.
"Yes, I think [the Olympics] is the next evolution of the sport," Louganis told BBC Sport.
"Everything is standardised through from the 1m springboard to the 10m platform and Red Bull [with the Red Bull World Series] have standardised cliff diving to bring in rules for men at 27m and women at 20m and using the degrees of difficulty [DD] table."
The highest DD score in Olympic 10m diving is currently 4.1 whereas when the height goes up to 27m that degree of difficulty can rise to 6.3.
"It has all of the elements you are looking for," added Louganis.
"It [being included in the World Aquatics Championships for the first time] is a great step forwards to that possibility, but who knows what the future holds."
The International Olympic Committee (IOC) will rule in September which sport out of baseball/softball (combined bid), squash or wrestling will be included in the 2020 Olympics.
Were high diving an entirely new sport then it would have to go through a similar bidding process, but as diving is already in the Games there is the chance it could bypass that stage.
However, the IOC traditionally does not like adding additional disciplines without removing one.
With only six women from four countries contesting their 20m high diving competition and all Olympic forms of diving currently well-served in terms of numbers of athletes and competing nations, it is difficult to see any dramatic changes in the immediate future.
But Hunt, a former Commonwealth bronze medal-winning diver, feels a little more support from within the UK could aid the sport's cause.
"I hope British Diving and British swimming look and see this is a serious sport now and we're only going to progress if we get help," he said.
British Swimming says it is "reviewing its involvement" in the sport but has been unable to provide finance to high diving athletes to date as funding from UK Sport goes only to those who could potentially compete in an Olympic Games.
The British divers will now return to competing in the Red Bull World Series with the next round taking place in Boston on 25 August.