Dan Goodfellow says World Championships was 'too much'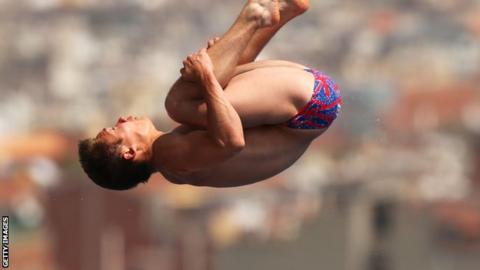 British diving prospect Daniel Goodfellow has said his World Championships appearance last week was a "competition too much" this year.
The 16-year-old won gold at the Junior European Championships and competed at the senior Europeans this season, but finished 28th at the worlds.
"I've done a lot of competitions. I went to the juniors two weeks before," he told BBC Radio Cambridgeshire.
"I hit my peak there and I think this was just too much really."
He added: "I had already done two Grand Prixs and a Junior European Championships The senior Europeans and worlds weren't really expected, they were sort of put upon me.
"But I think it was just a competition too much really."
Cambridge's Goodfellow has focused on the 10m platform this year, finishing 10th in the European seniors, before claiming the European title at junior level and appearing at his first World Championships.
His points tally of 318.55 saw him fall short of reaching the semi-finals however.
"The score I got in the Euros would have made the semi-finals," said Goodfellow, who has been touted as
"I wanted to make the semi-finals and that's why I was disappointed," Goodfellow said.
"The director of British Diving had no expectations of me. That was me setting my own personal targets.
"I know there's much, much more room for improvement."