Tom Daley 'brave and courageous' to reveal relationship with man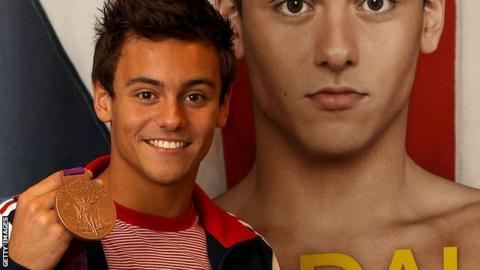 Olympic bronze medal-winning diver Tom Daley was "brave and courageous" to reveal he is in a relationship with a man, says former mentor Leon Taylor.
Daley, 19, made his announcement in a YouTube broadcast on Monday.
"Tom is an inspiration to so many people and I think this is just going to add to the amazing influence he has," Taylor, 36, told BBC Sport.
Cyclist Graeme Obree, who came out in 2011, said it was a "positive day", but warned Daley may lose sponsorship.
Obree, who twice broke the world hour record, said: "We live in a really tolerant country."
But the 48-year-old Scot said he had lost sponsorship deals that had been "signed and agreed" from "national companies with an international presence in countries that don't tolerate gay people".
Making his announcement, Daley, who won two gold medals at the 2010 Commonwealth Games before his third-placed finish at London 2012, said: "Of course I still fancy girls but right now I'm dating a guy and I couldn't be happier."
Later, he wrote on Twitter: "Overwhelmed by all the support! Means the world! Thanks so much guys."
Taylor, who won silver at the 2004 Olympics with Pete Waterfield in the synchronised 10m diving, mentored Daley during the early years of his career.
And he said the teenager, who said he was "as motivated as ever" to win Olympic gold in Rio in 2016, "must have considered" the possibility of a "negative reaction" to his announcement.
Taylor added: "Tom said: 'It shouldn't be a big deal but it might be.' And if you're in the media and you announce anything it's picked up on.
"However, as he also put it, 'I'm still Tom, I'm still going for gold in Rio', so nothing's changed and I'm proud of the way that he's gone about doing this."
Daley, whose father Robert died in 2011, was also praised by four-time Olympic champion Greg Louganis, who came out in 1995 following his retirement.
The 53-year-old American wrote in an open letter: "I am so happy for you that you have someone. Also for your mom, I am sure this will just bring you closer, and for your dad. I am sure he is smiling down from heaven knowing his son is happy."
British Swimming chief executive David Sparkes said: "Everybody within British Swimming supports Tom and his announcement.
"It's a very private matter and doesn't change the very positive way in which we will continue to work with Tom."
BBC Sport Olympics presenter Clare Balding, who is in a civil partnership with former BBC newsreader Alice Arnold, tweeted: "Being in China with no access to Twitter has its drawbacks but now in transit and have seen the Tom Daley video. Thoughtful, honest, beautiful.
"You don't have a choice to be gay, bisexual or straight but you do have a choice whether to be honest, open and proud. Respect to Tom Daley."