Tom Daley's 'brave' announcement should not matter - but it does

Last updated on .From the section Diving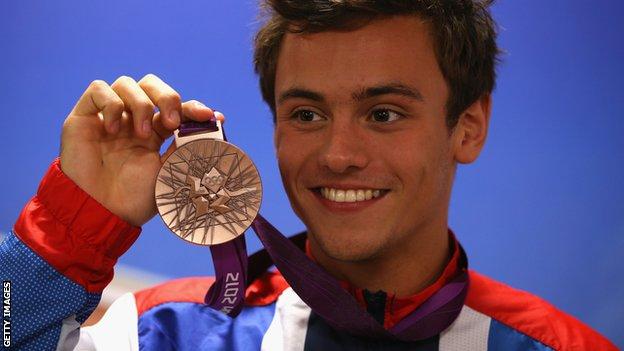 "In an ideal world I shouldn't be doing this video because it shouldn't matter."
But we live in a world where it is dangerous to be gay in many countries, where the next hosts of the Winter Olympics have brought in a law banning "homosexual propaganda" and where many gay athletes choose to stay silent rather than risk telling the truth.
Scottish cyclist Graeme Obree was in that situation for most of his career.
A double world pursuit champion and a two-time holder of the hour record, Obree announced publicly he was gay in 2011, at the age of 46. A father of two, he had revealed his sexuality to his family in 2005, but only after years of living with bipolar disorder, and three failed suicide attempts.
An intelligent and principled man - his refusal to dope ended his road cycling career before it really started - Obree's response to Daley's announcement was revealing, particularly on the subject of sponsorship.
"This will make no difference with tolerant and progressive companies in this country," he said.
"But if those countries have an international presence, there is pressure from eastern Europe to not sponsor gay people. I can't prove I lost sponsors, but deals that were agreed suddenly disappeared."
Daley is right; it shouldn't matter. But it does, which is why the most common word being used to describe his YouTube announcement is "brave".
"He's taken a very brave decision to announce this to the world, in his own words, directly to a camera," said his diving mentor Leon Taylor.
That sentiment was echoed by Edward Lord, chairman of the Amateur Swimming Association's group board, and Lord Browne, former chief executive of BP.
Browne was forced to step down as BP's boss in 2007 after he was found to have lied in court about a gay relationship he tried to keep secret.
"[Daley] is young and has many years ahead of him, but he's started to change the way people will look at him," he told Radio 4's World at One.
"It made a very big difference to me, but I spent many, many years in the closet."
Browne did not need to elaborate on what that was like; it was obvious in his tone.
Just 19, Daley talks in his video about dating girls in the past - and says he still 'fancies' them - but adds his life "changed, massively" when he met someone who makes him feel "so happy, so safe".
"That someone is a guy, and it did take me by surprise a little bit," he continues.
"It was always in the back of my head that something like that could happen, but it wasn't until this spring that something clicked, it felt right, and I was like, OK."
So why are millions of people not interested in stories about teenagers announcing they are straight? Why did some of Daley's extended family advise him to keep quiet a little longer? And why can we count the number of openly gay professional sportsmen on one hand?
Sure, we can all name former Wales rugby star Gareth Thomas, and some might know about cricket's Steven Davies, but that is hardly a representative sample, and when you talk about football there is a long gap between Justin Fashanu and Robbie Rogers.
Estimates of how many gay people there are in any population are controversial, but 3% is widely considered to be a good guess. The Professional Footballers' Association has 4,000 members, so, by that estimate, approximately 120 of them would be gay.
"Sport is a difficult area. It's moving very slowly," said Browne, who has been studying the issue of gay rights in various walks of life.
"It varies from sport to sport but football is probably one of the most difficult. I think it's partly to do with having no role models, and partly to do with fans having expectations of their heroes being heterosexual."
Daley, of course, does not have to swap salacious stories about WAGs for kudos, or do his job in front of thousands of fans screaming anything they can think of that might unsettle him.
But he has spent a large part of his public life - a life that already stretches back a decade - wet and in briefs. That goes a long way to explaining his popularity, and the interest in his love life.
There will be some who see Daley's announcement as just the next chapter in an Olympic-themed soap opera that started when he went to the 2008 Olympics and became Britain's best-known 14-year-old.
He had already been beating the best British divers for years, and while there was no fairytale medal in Beijing, he was undoubtedly one of Team GB's biggest stars.
That was confirmed a year later when he became world champion. His emotional celebrations with his father, an electrician who had been fighting brain cancer for three years, elevated him to a tier of celebrity never before reached by a humble tumbler.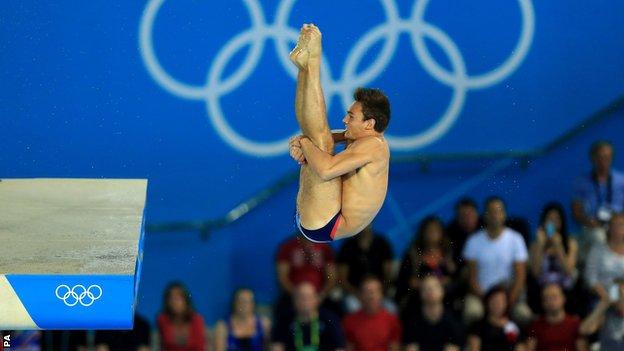 His fame would reach ludicrous proportions by London 2012. The intervening years saw Daley lose his dad in 2011, be forced to change schools because of bullying, star in a fly-on-the-wall documentary and fall out with his coach.
And that was before he even started the lonely climb to the 10m platform and the most dramatic bronze medal in British Olympic history.
But throughout all this, the question he was asked more than any other was: "Have you got a girlfriend?"
Only two months ago, Daley was quoted by the Sunday Mirror as saying: "I think it's funny when people say I'm gay - I laugh it off. I'm not, but even if I was, I wouldn't be ashamed. It wouldn't bother me in the slightest what people thought."
Daley refers in video to his annoyance at being misquoted recently, but also acknowledges he has, at times, been vague in some of his answers.
Frankly, that is his right, and it says much about our strange attitude to sports stars and their sexuality that he has been forced to provide a running commentary on the subject.
John Amaechi was one of Britain's best-paid sportsmen during his stint in the National Basketball Association, but he was not particularly happy. A gay man, he found the unbridled machismo of the locker room intimidating, so he kept quiet.
But Amaechi was too bright, with too much to say, to stay silent forever, and when he came out in 2007 he became the first NBA player to do so. He is now a respected broadcaster, coach, psychologist and public speaker.
"I think it's a calculated risk for him in that he's decided it's going to be so detrimental to waste energy sneaking around and using gender-neutral pronouns when talking about his partner that it's worth speaking out now," said Amaechi.
"If you're interested in being the best - if you operate at the cutting edge in sport, education or business - you can't afford to have even a fraction of a percent of your energy dedicated to gender-neutral pronouns."
One wonders how many others would love to be liberated in such a way.
"You only have to look to see that sport is run by a fairly homogenous group of elderly men. They are the people who have trouble with women in the boardroom, or black people if they're not on a field," said Amaechi.
"So yes, they're going to have trouble with gay people almost anywhere."
Daley is too loved, too talented and too grounded (which is saying something for a diver) to be knocked off course by a minor biographical detail.
For evidence of that, we need only look at two diving greats: Australia's 2008 Olympic champion Matthew Mitcham and the four-time Olympic champion Greg Louganis.
Mitcham was one of an estimated 10 openly gay athletes out of a total of 10,000 at the Beijing Games, while Louganis came out at the end of his remarkable career in 1998. The American has since become a high-profile campaigner for gay rights in the US.
"The UK, US and Australia have come a long way [in terms of tolerance], but still have a way to go," Louganis told the BBC.
"But Tom Daley will always be Tom Daley to me, the little, well not so little anymore, kid who could rip like no other!
"He's a great young man, with great energy, and one of the nicest and politest people I have met in the diving world."
In an ideal world that should be all we need to know about him. If that world is not so impossible to imagine now, Daley really has made a big splash.