Tonia Couch: Team GB diver suffers dislocated knee
By Phil Harlow
BBC South West Sport
Last updated on .From the section Diving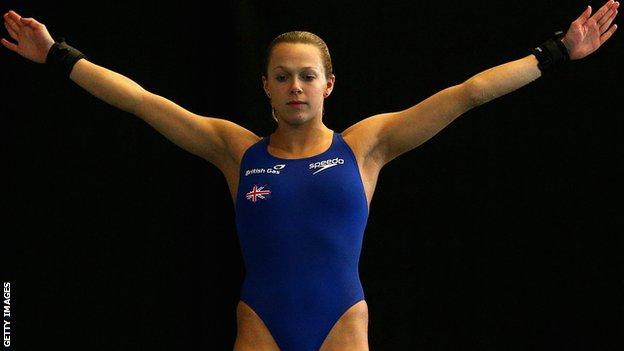 Team GB diver Tonia Couch has dislocated her left knee and will miss the start of the season.
Couch, who has had similar problems before, faces several weeks out and will miss the National Cup event in Southend, starting on 31 January.
But the 24-year-old is confident of being back in action in time for the Commonwealth Games in Glasgow in July.
"I'm going to work hard and I'll definitely be back for the Commonwealth Games," she told BBC South West Sport.
Couch said taking part in the Fina World Series, which gets under way in Beijing on 14 March and also features events in London, Dubai and Moscow, would be "a close call".
"I've done it a few times now and I did it again in the gym on Friday morning," she continued.
"I didn't really do anything and I don't know exactly what happened, but possibly my ankle was a bit offset and then my knee went out which was a little bit scary.
"I have good physio and massage people and a strength and conditioning coach to help get it all back together and keep an eye on it so it should be all fine.
"I'm not too sure how long I'll be out for. I'm in a cast that I can take on and off at the moment. I'm seeing my physio on Wednesday and hopefully I'll be able to go for a gentle swim to keep my fitness up and keep strengthening my knee slowly.
"I'll carry on with a bit of upper body stuff so I'm not sat at home doing nothing but I've got to wait on the swelling on my knee to go down before we can make any plans."
Couch won the 10m synchro gold medal with partner Sarah Barrow at the European Championships in 2012. Barrow will have to concentrate on individual competition until Couch's return.
Meanwhile, the National Cup event in Southend will feature London 2012 bronze medallist Tom Daley's first competitive appearance of the season.