Tom Daley: Peter Waterfield says it is time to 'knuckle down'
Last updated on .From the section Diving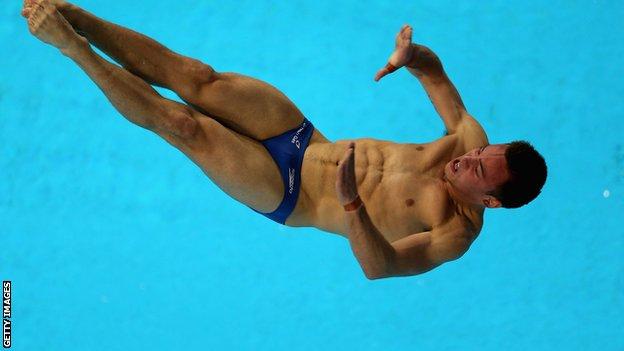 Tom Daley must "knuckle down" to eradicate the fear he believes is hampering his diving, says former Olympic partner Peter Waterfield.
The Olympic bronze medallist, 19, spoke of being terrified after finishing fifth on his competitive return to the London Aquatics Centre.
Waterfield thinks Daley's media commitments have become a distraction.
"He needs to knuckle down if he wants to achieve what he is capable of achieving," he told BBC Radio 5 live.
"I know Tom has been a busy boy with his shows and things like that, but I think it is now starting to show."
After missing out on a medal in the London Diving World Series, held at the same venue he won Olympic bronze in the men's 10m platform, Daley told BBC Sport he was having problems with his 'twister' - 2½ somersaults with 2½ twists in the piked position.
"I'm literally terrified of it," he said. "I'm going to see a therapist about it again, because it's almost become a bit of a phobia."
But Waterfield, who partnered Daley in the London Olympics when the pair came fourth in the 10m synchronised platform final, believes the answer for Daley lies largely in working harder out of competition.
"You've got to just practice, practice, practice, practice," the 33-year-old said. "The reason you get scared is because you are not training enough.
"Every time you then do it, you feel you will go wrong a bit or get lost in the dive. It makes it harder and harder."
But Waterfield admits psychologists can also help deal with issues that may be damaging Daley's performance.
"We have psychologists he should be working with," he added. "I am sure he is. It will be a long process. When you're in the mindset where it's negative all the time, it's really hard to think about doing the dive right."
British Diving performance director Alexei Evangulov, who has previously been critical of Daley's out-of-pool activities, insists he is happy with the teenager's commitment to the sport.
"We have seen a lot of changes in Tom over the last couple of years, but I am more convinced than ever that diving is now his number one priority," he said. "I am happy with where he is at on a performance level."