British Diving Championships: Blagg and Dixon win gold medals

Last updated on .From the section Diving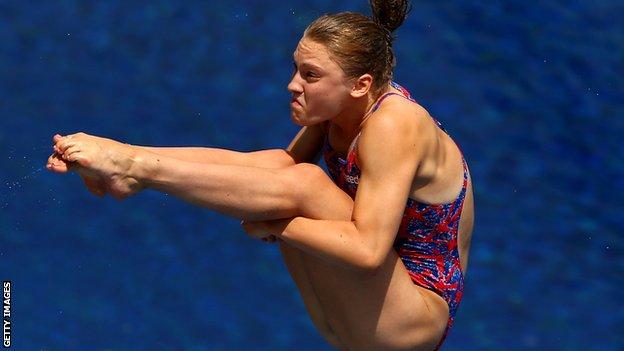 Alicia Blagg and Matthew Dixon won gold medals on the final day of the British Diving Championships in Sheffield.
Blagg, 17, took the 3m springboard title ahead of fellow London Olympians Hannah Starling and Rebecca Gallantree.
Dixon, 14, replaced Tom Daley as the 10m platform champion, beating Kyle Kothari and Matty Lee on Sunday.
English gold medallists at the British Championships are likely to be selected for this summer's Commonwealth Games.
"I'm speechless, it's just amazing. I just can't believe it," Dixon told BBC Sport.
"Tom was at our club and he used to help me.
"If I made the team I would be so happy."
With Daley, Jack Laugher, Tonia Couch and Sarah Barrow all competing in the World Series event in Mexico, there were opportunities for other divers to claim British titles.
Dixon, from Plymouth, who won with a score of 398.25, could be selected as one of Daley's 10m team-mates at the Commonwealth Games, with official confirmation expected on 13 June.
Blagg, from Leeds, expressed her relief after taking her first 3m individual British title, and all-but securing a place on Team England with a winning total of 334.8.
"I'm overwhelmed. I fractured my wrist in September and it's been up and down since," Blagg told BBC Sport.
"Yesterday I had to pull out of the 3m synchro because of the pain.
"It's been a big worry on my mind (possibly missing out on the Commonwealth Games).
"It just meant so much to me and I had so much fire in my belly for the competition today."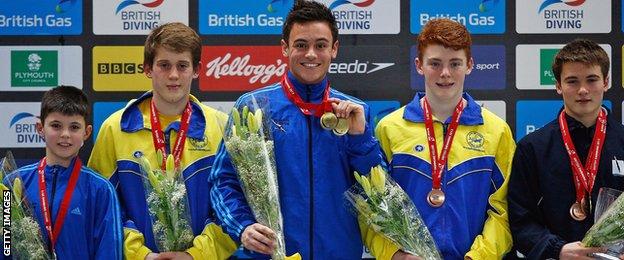 Among the other highlights over the three-day competition in Sheffield were local diver Freddie Woodward, who won double gold in the 1m springboard and the 3m synchro on Friday, and Victoria Vincent, who on Saturday took the 10m platform title.
If, as expected, Vincent is selected for England's Commonwealth Games team she could well be the youngest athlete at the event, having only turned 13 in April.
"I couldn't believe it, I was so shocked," the Plymouth girl told BBC Sport of her gold medal success.
"As I'm a junior I didn't think winning a senior competition would happen - I was only aiming to get to the final.
"I really, really want to go to the Commonwealth Games. It would be a really good experience for me."