Glasgow 2014: England appeal over diver Victoria Vincent
Last updated on .From the section Diving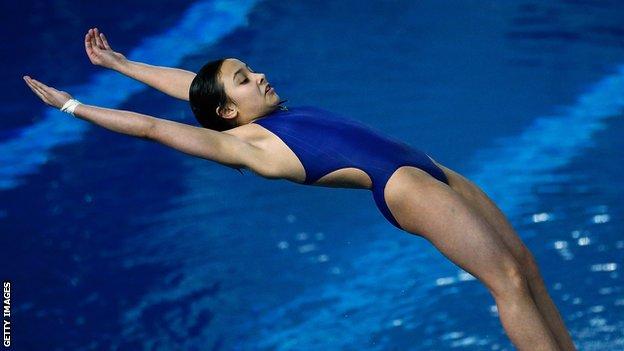 The coach of Britain's 13-year-old 10m diving champion says Commonwealth Games England are lodging an appeal to allow her to dive at Glasgow 2014.
Andy Banks says Victoria Vincent, who is not allowed to compete as she is not 14.
Rules say divers must be in the year of their 14th birthday to dive at a World Championship, Olympics or World Cup.
But those rules do not mention the Commonwealth Games, which have seen 13-year-olds compete before.
"As far as I'm aware an appeal has been lodged by Commonwealth Games England," Banks told BBC Sport.
"We're hopeful of a positive outcome."
Canada's Alex Despatie won 10m gold in 1998 less than four months after his 13th birthday, while fellow Canadian Rachel Kemp dived at the 2006 Games in Melbourne just a month after her 13th birthday.
England have named a to go to Glasgow, including Vincent's 14-year-old team-mate Matthew Dixon, who won the British men's 10m title.