Andy Banks: Tom Daley's former coach set for Canada move
By Brent Pilnick
BBC Sport
Last updated on .From the section Diving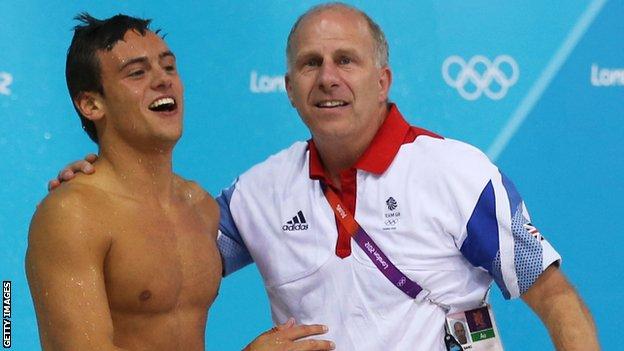 Andy Banks, the coach who led Tom Daley to a world title and is considering an offer to join the Canadian national diving set-up.
Banks has been approached by Canada to head up their national programme at the new pool in Toronto this autumn.
The 50-year-old is not funded by British Swimming, but by the firm which runs the Life Centre in Plymouth where he is based.
His contract with that firm comes to an end in March 2015.
Banks says he had discussions about being employed full-time by the sport's governing body in the UK, but British Swimming told him they could not afford him.
"I was under the impression that the funding would be made available in March 2015," he told BBC Sport.
"They say that although the discussions happened there was nothing that was finally decided.
Andy Banks
Became a full-time coach in 1988
Named World Class Potential coach in 2000
Made World Class Performance coach in 2005
Led Tom Daley to 2009 10m platform world title
Helped Daley win 2012 Olympic 10m platform bronze
"Their budget is now being used in various different ways which would make it very challenging for them to find extra monies at this stage within the cycle.
"They don't seem particularly interested in retaining me, while Canada have been offering me all sorts and putting together a package that's very enticing, and bending over backwards to get me over there."
Five Plymouth divers competed at the 2014 Commonwealth Games in Glasgow.
Daley, 20, retained his 10m platform title and won a silver in the synchronised event, while Tonia Couch and Sarah Barrow, won silver in Glasgow in the women's equivalent.
Banks said his long-term plan was to stay in the city until after the Olympics in Rio in 2016.
"I turned down a job in the US earlier this year based on the fact I wasn't done yet with Tonia and Sarah," he said.
"It's an exciting opportunity in Canada if it comes about and I'll jump into it 110% as I do with everything.
"But I'll be watching very closely Tonia, Sarah and the rest of them, and the rest of the British team to be honest as I feel I'm still very much part of it."
British Swimming said in a statement that Banks had "advised us of his plans to move to Canada" during a meeting at the Commonwealth Games.
The statement continued: "Andy has made a massive contribution to British diving and his departure two years from Rio will be a challenge.
"We wish him well and will work with the athletes in Plymouth to support them as they continue to prepare for the Olympics in 2016."
Banks - a judge on the last two series of the ITV show Splash!, which is presented by Daley - set up Plymouth's full-time diving programme in 1992 and was made a World Class Performance coach in 2005.
He went to the 2008 and 2012 Olympics as Daley's coach, having worked with the Plymouth-born diver since he was a boy.
But the pair split late last year as Daley moved to London to team up with American coach Jane Figueiredo.
Banks was head coach of the England Commonwealth Games team in 2002, and has been involved in the past four Games.
He has also helped develop the careers of youngsters such as 14-year-old Matthew Dixon, who won the 2014 UK 10m platform title, and Victoria Vincent, who at 13 was the youngest member of the England team at the Commonwealth Games.
"There's so many amazing divers, they'll all be very upset if he goes," Couch told BBC Radio Devon.
"It would be really devastating. I've had him as a coach since I was 10 years old and I've never really had anyone else.
"I've had people come in and step in for him and as well as him, but I've never not had him as my coach so it would be very upsetting."