Tom Daley: Five steps to a 'dream' Olympic gold medal in Rio

By Nick Hope
BBC Olympic sports reporter
Last updated on .From the section Diving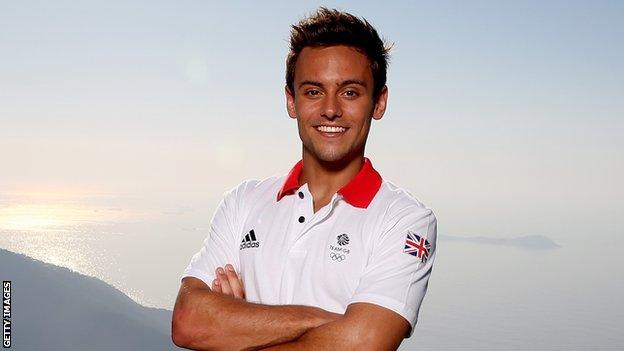 Tom Daley is Britain's most decorated diver, having won world, European and Commonwealth titles.
However, one major honour eludes him - Olympic gold.
In order to help better the bronze he claimed at London 2012, Daley has ditched his "demon" dive and invented a new "firework" routine, which he will debut at the National Championships in Plymouth this weekend.
That is not the only reason the 20-year-old believes he can complete his set of gold medals come the 2016 Rio Olympics.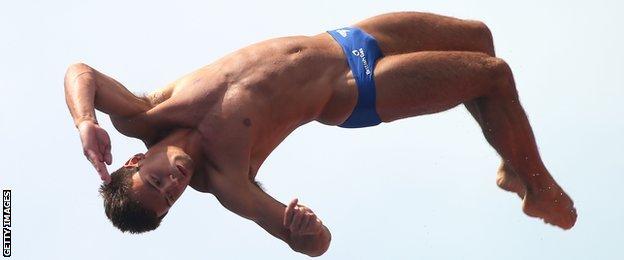 Trying to beat the Chinese
Although the United States lead the all-time Olympic diving medal standings, China - who are second - have been the stand-out nation at recent Games.
They have won 24 of 32 medals over the past four Olympics and, in world champion Qiu Bo and world record-holder Yang Jian, have arguably the two best 10m divers on the planet.
"The Chinese have always been very dominant," Daley said. "They're constantly moving the boundaries but I can't obsess about what they're doing because I can only control myself.
"Getting rid of what everyone knows was my 'demon' dive and replacing it with the new one has given me so much confidence - I know I can challenge for gold.
"At the moment there is no roof on the Rio diving venue and I hope it stays that way because the Chinese aren't used to that. It'll be down to who can handle it on the day."
The pressure will not affect me
In addition to the attention he received as a "pin-up" for the London Olympics, Daley has also had to deal with the stress of being bullied and the loss of his father, Rob, to cancer, when Tom was just 17.
In short, he is used to overcoming adversity.
"They were really difficult years for me," Daley said. "But I don't allow myself to look back too much because I have to be ready for the next obstacle. There's always something.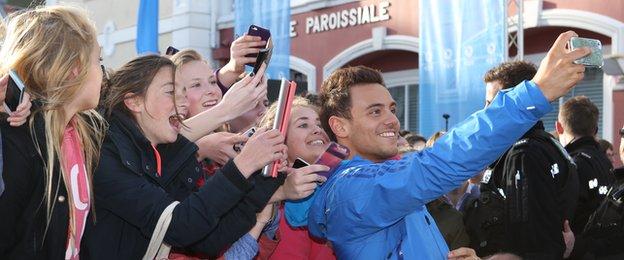 "Life really does give you a lot of mental toughness and strength that you can use in your sport.
"Most Olympic sports come down to whether you can handle the pressure. If you can, you'll do great; if you can't, you'll crumble.
"There may not be as much pressure from other people in Rio as in London but I always put pressure on myself because I want to win."
I can overcome injury problems
Elite diving may look elegant but leaping from 10 metres and hitting the water at around 35mph gives the body a battering.
Daley, who will be 22 come the Rio Olympics, tore his right triceps in 2010 when he was just 16, before rupturing it twice in 2013.
"Age in diving is all down to how long you've been doing it," he said. "I started at 10 but most begin when they're 16. Having done it for 10 years, I'm really the equivalent of a 26-year-old.
"As you get older, you get more injuries so you have to do more warm-ups.
"I'm working harder than ever before with my coach, who's making me do all kinds of new exercises. Hopefully I'm on top of it and can stay fit."
I'm cutting down my media work
Since qualifying for the 2008 Beijing Olympics at the age of 13, Daley has advertised pretty much everything from breakfast cereal to calendars, via several clothing lines. He even starred in several of his own TV shows, including Saturday primetime diving show Splash, alongside Gabby Logan.
It means his earnings outside the pool far exceed that attained diving into it - which has occasionally drawn criticism from within the sport.
Daley has always insisted diving is his "number one focus".
"I'm not doing any media stuff like TV shows or series this year but having something outside of diving helps me massively," he said.
"I'm going to do some Spanish classes and possibly Portuguese. It's an escape from diving and that makes me train better."
Being happy helps my diving
In late 2013 Daley became one of only a handful of active sportsmen to reveal he was in a relationship with another man. It was a decision many described as "brave".
He now says he is happier than he has ever been.
"The support and reception was amazing and made me feel so comfortable," Daley said. "It made me happy to be who I wanted to be.
"There was never a worry about the public's reaction because I know I can do what I love - and that's diving.
"Being happy and in a good place mentally is one of the most crucial things for any sportsperson."