Mixed-gender diving: Scottish pair win gold in first British event
By Nick Hope
BBC Olympic sports reporter in Plymouth
Last updated on .From the section Diving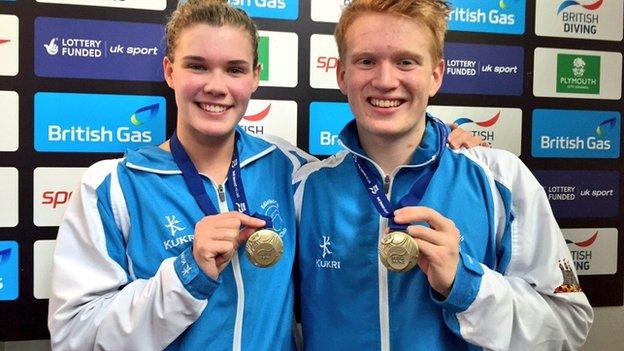 Scottish divers Grace Reid and James Heatly won 3m synchronised gold in the first-ever British mixed-gender event.
Reid, 18, and Heatly, 17, scored 267.72 to beat English pair Clare Cryan and Ross Haslam in Plymouth.
Mixed competitions were approved by the sport's international governing body, FINA, in November and will be included at the 2015 World Championships.
"It's really different competing with a male to a female, but it's exciting," Reid told BBC Sport.
Reid and Heatly both competed for Scotland in last year's Commonwealth Games in Glasgow, with Reid narrowly missing out on a medal in the one-metre springboard final. Heatly qualified for the final in the men's equivalent event.
"There are obvious physical differences and I have to hold back a little bit," said Heatly. "Plus [the men] usually do different dives, but it was a great experience."
FINA only recently confirmed that the event would be included in this summer's World Championships in Kazan, Russia.
British Diving have yet to decide whether they will enter pairs into the event, but are planning on competing in both the mixed 10m platform and 3m springboard events at the London World Series competition in May.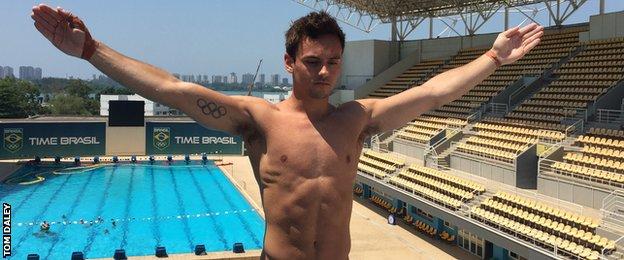 Olympic bronze medallist Tom Daley confirmed to BBC Sport last month that he has no plans to compete in the event unless it becomes part of the Olympic schedule - which could not happen until Tokyo 2020 at the earliest.
Daley also cited as a potential problem that the world's leading female divers cannot currently replicate the toughest routines performed by men.
However, Reid believes the new event could improve the standard of women's diving.
"There are always going to be obvious differences between men and women, but I think it's definitely going to push some of the women to try bigger dives."
Meanwhile Chris Mears and Jack Laugher won their first British title as a synchro pair, winning the men's 3m synchro. Commonwealth silver medallists Tonia Couch and Sarah Barrow took gold in the women's 10m synchro.
Jack Haslam won his first British title with gold in the men's one-metre springboard while Rhea Gayle won the women's event.