Jack Laugher and Lois Toulson win British diving titles
Last updated on .From the section Diving
Double Commonwealth gold medallist Jack Laugher secured his second British Championship title with 3m springboard victory in Plymouth.
Laugher, who won the synchronised gold alongside Chris Mears on Friday, scored 462.65 to beat his team-mate's 454.20.
"It was pretty good today, but I've lots to work on this season," he said.
There was a surprise in the women's 10m final with 15-year-old Lois Toulson beating Olympic duo Sarah Barrow and Tonia Couch.
Toulson, who trains in Leeds, entered the day with a personal best score of 304.9, but totalled 366.85 from her five routines in the final to stun her more established rivals.
"It's the best performance of my life and I wasn't expecting that at all," she told BBC Sport.
Couch (346.10) had led until the final round of dives, when she slipped to third behind synchronised partner Barrow (350.10).
Laugher won individual 1m and synchronised 3m gold medals at last year's Glasgow Commonwealth Games, but has introduced a new routine for this season.
He hopes the front 2.5 somersault, 3.5 twists dive will boost his medal prospects heading into the 2016 Rio Olympics.
"There are only a few divers in the world doing it at the moment," said Laugher, who is the first British diver to perform the routine.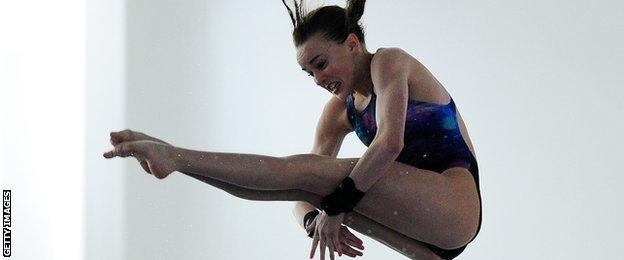 "Hopefully this will put me up there with them so I can rival some of the best regularly."
Leeds-based Jamaican diver Yona Knight-Wisdom scored 390.00 to finish third in the event.
The women's synchronised 3m springboard final was won by Sheffield divers Millie Fowler and Millie Hafferty.
With no British divers currently able to match Tom Daley's array of dives, he is not competing in the 10m synchronised platform until after the Rio Olympics.
As such Matty Lee and James Denny were the only entrants for the men's 10m event and took the title with a score of 373.14.