Tom Daley wins gold at the British Diving Championships
By Nick Hope
BBC Olympic sports reporter
Last updated on .From the section Diving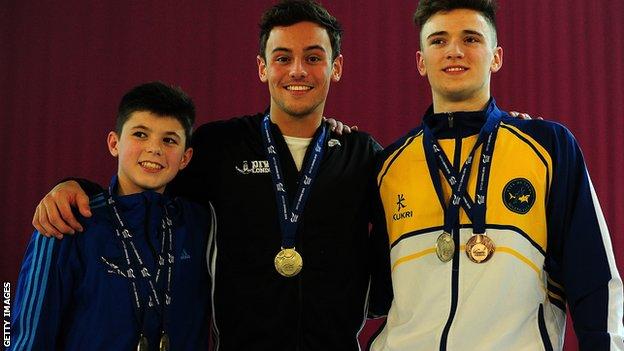 Tom Daley won a fifth individual 10m platform title at the British Diving Championships then conceded there was still "work to be done" on his new 'firework' routine.
The 20-year-old, competing in Plymouth for the first time since moving his training base to London last year, scored 493.70 from his six dives.
He scored just 61.2 for the new '3.5 somersault with one twist' dive though.
"It's there, it just needs a little bit more competition practice," he said.
English Commonwealth diver Matthew Dixon, 14, finished second in the 10m final, with Matty Lee third.
Olympic diver Rebecca Gallantree, who has competed in two Olympics, won the women's 3m springboard event ahead of Katherine Torrance and Rhea Gayle.
Daley and his coach Jane Figueiredo created the world-first 'firework' routine as a solution to his 'demon' dive - a '2.5 somersault, 2.5 twist-piked' routine which had plagued the Olympic bronze medallist since the London 2012 final.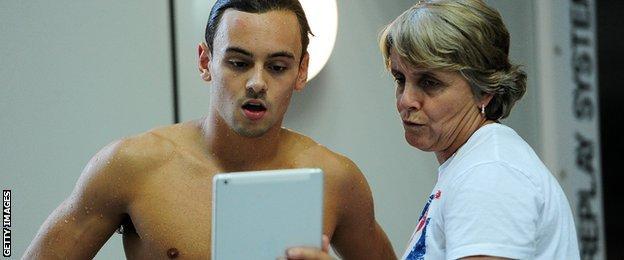 "It was a weird feeling thinking I haven't ever done this in competition before," said Daley, who last introduced a new dive in 2011.
"I'm happy with the way it went, but I think in the future it should be better," he said.
Figueiredo was pleased with Daley's performance in his first event since claiming silver at the 2014 European Championships in August.
However, she is keen to quell the hype surrounding the new 'firework' dive.
"He's not doing something so spectacular that the rest of the world will go stand up and say 'wow' about," she told BBC Sport.
"It's new, but it's a working process, I don't want to make a big deal about it but we hope to have it ready for the World Championships."
Daley and the rest of the elite British divers will now head to China for the first leg of the World Series 13-15 March in Beijing.
Their main focus for the season though are the World Championships in Kazan, Russia, where they can begin to secure places at the 2016 Rio Olympics.