European Championships: Grace Reid aims for medal despite Tom Daley absence
Last updated on .From the section Diving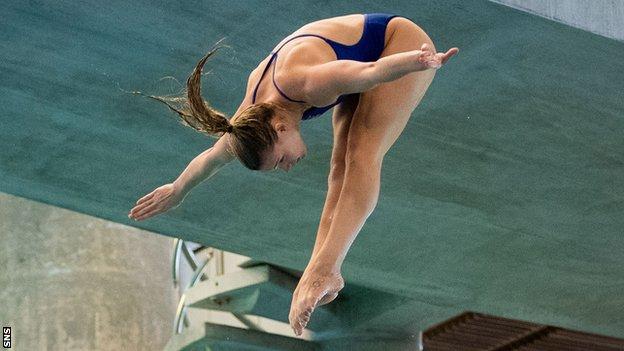 Scot Grace Reid aims to win a European Championship medal in home water in August despite a break in her partnership with Tom Daley.
Reid and Daley won mixed 3m synchro gold at the last Euros in 2016 and four straight silver medals in this year's Fina World Series.
Daley said last month he would sit out the rest of 2018 to prepare for having a baby with husband Dustin Lance Black.
"It is really important he did what is right for him," Reid told BBC Scotland.
"We are in this together as a team but equally, he is on his own path right now, so I am pleased he is doing what is best for him. Hopefully we will get to see him back soon."
Reid, 22, has instead teamed up with Sheffield-based Ross Haslam, 20, and the pair won World Cup bronze last week in Wuhan, China - their first competition together.
Given the Scot also has her own individual 3m springboard event to focus on, as well as her women's 3m synchronised partnership with Katherine Torrance, 19, it was a promising start with little training time together.
"We worked with what we had and obviously had a good result," she said.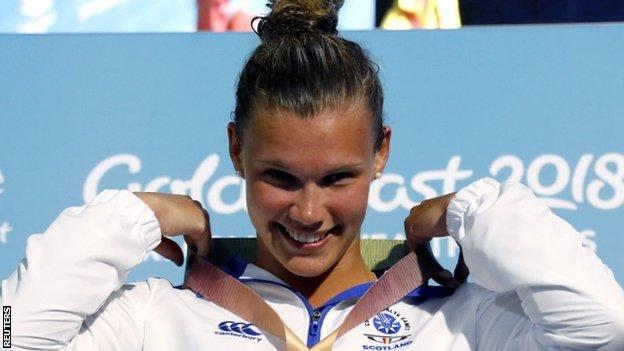 "It is different when you are put next to someone brand new, but it is exciting and it is a chance to start from nothing. To walk away with a bronze from our first competition is really exciting.
"It is a really good partnership. Ross is fantastic, as is Katherine. We have some really good depth in the British team right now.
"Tom is fantastic, he really is world-class. Ross is obviously younger but so promising and he has a really bright future.
"The partnership is really promising so far, so I am excited to see where it goes."
Reid, who won individual 1m springboard gold for Scotland at the Commonwealth Games in April, is relishing the prospect of competing in home water in August at Edinburgh's Royal Commonwealth Pool, which will host the European Championship aquatics events.
"I have trained here for so many years and it is a nice home comfort, definitely," she added. "The facilities here are first class, and although it is Glasgow 2018, this will be a fantastic venue for us.
"The European diving field is very tough; there are a loot of great girls out there, in my event particularly, but I am really excited.
"I would really love to come away with a medal - that is the absolute dream goal. I have had a really long season but I have been building to this and I am hoping to come in full steam ahead and put in a good performance.
"This season has been relentless in terms of various competitions and I have learned a lot.
"It has been tough and really challenging being away from home so much but I am hoping the preparation I have been doing all through the year and the vast experience I have taken away will help me when I come here in August."