Roy Hodgson & England: Reaction to FA move for West Brom boss
Last updated on .From the section Football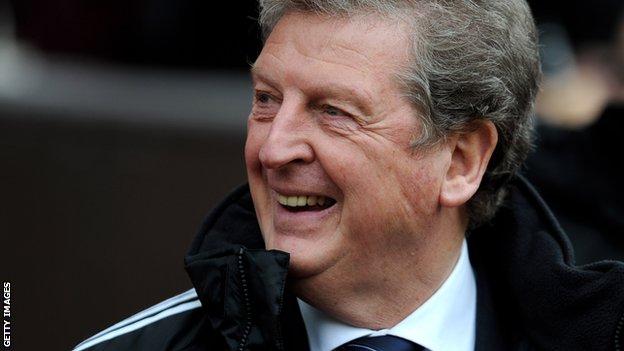 Former England manager Graham Taylor believes the Football Association has turned to Roy Hodgson because he will create a "club-like atmosphere" at its new National Football Centre.
The FA has been given permission by West Brom to speak to Hodgson about becoming the next England boss.
Taylor says the new centre at Burton-on-Trent is key.
"With the building of the new centre, that is going to be absolutely vital with future England teams at all levels," he told BBC Radio 5 live.
"I just happen to feel, without the FA saying this, that what they're probably looking for is a man who will be willing to go into Burton pretty much every day and stay in a tracksuit, and see the young boys at youth level, see the under-21s and his first team when they are there.
"They haven't said that, that's just me assuming, but I don't think they will see that Harry will fit that bill."
BBC presenter and former England striker Gary Lineker says Hodgson is a solid choice who has the experience to get the best out of a team.
He said: "I think Roy is a safe pair of hands, I think the FA would have recognised that. He's a very likeable guy, very authoritative and very knowledgeable about the game.
"He clearly has bags of experience, all over the world and at all sorts of levels of football. He has tactical nous and he understands how to get the best out of his team and players.
"He has enjoyed mixed success at various clubs. He has done a terrific job at West Brom, did excellently at Fulham where he led them to a European final, yet it did not quite happen for him at Liverpool and way back at Blackburn."
Former Liverpool player John Barnes, who earned 79 England caps, thinks Hodgson can succeed under the correct expectations.
He said: "Roy Hodgson is as good as anyone, he's competent, he's a good manager and he's proven at international level, although the expectations with Switzerland and Finland are not what they are at England.
"People have to take a more pragmatic approach about England and if we quell our expectations, he will do a good job. We have to be looking to get results and be competitive rather than thinking we're the best in the world and should try to play like that. Roy will give us consistency.
"We're not Barcelona or Spain so let us get a manager who will play to our strengths and be pragmatic and organised."
Sir Geoff Hurst feels Hodgson is well qualified but that Redknapp was the "outstanding candidate" for the national job.
Hurst, who scored a hat-trick as England beat Germany in the 1966 World Cup final, said: "I thought Harry was probably the outstanding candidate at the time because he has had success with Tottenham at a higher level.
"Roy has managed in the Europa League and also at international level, which is also good experience, but what Harry has achieved at Spurs in the last three or four years as been quite remarkable."
Former England player Matthew Le Tissier believes the cost of Redknapp's compensation is the reason the FA have gone for Hodgson.
He said: "It seems to me that the FA has gone for someone who's going to do as he's told (and) isn't going to cost anything in terms of compensation," Le Tissier told Absolute Radio.
"It looks to me like it's the cheap option and the safe option... whether or not it's the right option only time will tell. I've never really been excited by Roy Hodgson's teams and I think that's where my reservation stems from."
David Davies, a former FA chief executive, says while he thought Harry Redknapp was destined to be interviewed for the post, Roy Hodgson is well equipped to lead England.
"Like most people I expected that Harry Redknapp would, at the very least, be interviewed by the FA. That was wrong.
"The FA believe that they have carried out a very professional, research-based process which has led them to make one approach and that is to Roy Hodgson.
"I happen to think Roy is someone with the very best credentials for the job. Redknapp was very clearly the public and the media's choice, and it is for the FA to explain why they didn't take his candidature any further.
"My understanding is there was a shortlist this time as well, of more than two people. No there weren't other interviews, but there was lot of research and a lot of talking to other people in the game. The FA believe, as I understand it, that they have learnt the lessons of the past and they've carried out a very discreet process."
England Supporters' Club member Mark Perryman said the FA needed to explain why it had overlooked Redknapp.
"It's almost inconceivable that they haven't approached Redknapp," he said.