Oxfordshire Sports Awards 2012: Andy Triggs Hodge nominated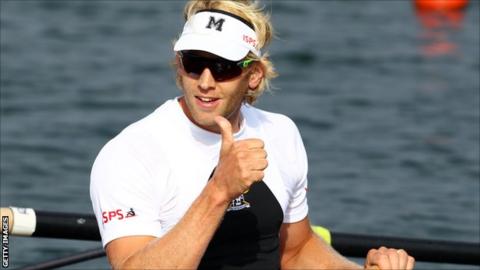 Olympic gold medallist Andy Triggs Hodge is among the star names nominated in this year's annual Oxfordshire Sports Awards.
Hodge who won rowing gold in the men's four in August is nominated in the sportsman of the year category along with Lawrence Clarke and Jack Brooks.
Paralympic gold medallist Lily van der Broecke is also nominated in the sportswoman of the year category.
And after winning promotion to Blue Square Bet North, Oxford City find themselves among those nominated for team of the year.
Manager Mike Ford said the award was fully deserved after their exploits last season.
"It's a great honour," Ford told BBC Radio Oxford.
"I'm a firm believer that if you work hard then you get the rewards and just to be nominated alongside some fantastic teams is an honour in itself."
Oxford City are up against Bicester Hockey Club Ladies first team and Oxfordshire Ladies Cricket team and Ford admits his side are up against some tough opposition.
"I'm sure whoever win will go away worthy of the trophy," he said.
"This is the biggest season in the club's history and we have worked so hard to get into the Conference North. To stay in the league is my sole objective."
2012 Finalists
Sport
Club of the Year
Coach of the Year
Disability Sports Award
Junior Sportsperson of the Year
Junior Sports Team of the Year
Sportsman of the Year
Sportswoman of the Year
Unsung Hero
Young Volunteer
Sports Team of the Year
Banbury RUFC
Rugby
Challow Netball Club
Netball
Higher Energy Trampoline Club
Gymnastics
Tessa Horn
Netball
Yolanda Owen
Netball
Jane Parkinson
Badminton
Rosie Bancroft
Swimming
Andrew Gardiner
Golf
Witney Wolves Inclusive TAG Rugby Team
Rugby
Holly Lay
Rifle Shooting
Elliot Harvey
Karting
Michael Wakelin
Skater Hockey
Wallingford Rowing Club
Sculling
Banbury U13s Girls Cricket Team
Cricket
Team Cherwell Junior Triathlon Team
Various
Andrew Triggs Hodge
Rowing
Lawrence Clarke
Athletics
Jack Brooks
Cricket
Lily van der Broecke
Rowing
Dawn Williams
Triathlon
Kathy Hawes
Bowls
Paul Duester
Cricket
Chris Bazeley
Athletics
Shirley Johnson
Football
Ben Webb
Cycling
Tom Guntrip
Cricket
Amy Cooper
Athletics
Bicester Hockey Club Ladies 1st Team
Hockey
Oxford City Football Club
Football
Oxfordshire Ladies Cricket Team
Cricket