Ashley Cole closes in on 100 caps as England host Brazil

By Phil McNulty
Chief football writer
Last updated on .From the section England801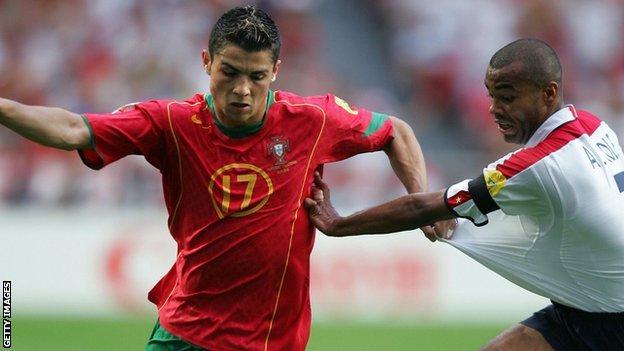 England's meeting with the world's most charismatic and joyful footballing country in front of a capacity Wembley crowd should present the perfect stage to celebrate Ashley Cole's 100th cap.
And yet, for reasons that have little or nothing to do with football, there remains a doubt over whether this wonderful England servant will receive the acclaim the achievement deserves when he plays against Brazil.
The 32-year-old Stepney-born left-back has been an almost flawless performer for England since he made his debut in a World Cup qualifier against Albania in Tirana on 28 March 2001.
Cole's England contemporary David Beckham manicured his public image so carefully that he was afforded an even bigger ovation than the legendary Sir Bobby Charlton when he received a commemorative cap to mark a century of appearances at the friendly against Belgium in June.
And yet there is no guarantee the defender, who has won the club game's greatest honours in a glittering career at Arsenal and now Chelsea, will receive the same affection at Wembley. Indeed, there are suggestions he may even feel an icy blast from a public that lost its warmth for Cole some time ago.
He completed his set of club silverware when Chelsea won the Champions League against Bayern Munich in their own Allianz Arena last May. It was marked by another magnificent personal display from a player who responds to the bigger games with bigger performances.
Cole's career on the pitch has almost always followed an exemplary path, perhaps apart from when he publicly ignored referee Mike Riley's attempt to book him in a derby at Tottenham in 2008. The gloss has been rubbed off his relationship with the public, and indeed the media, by events away from the playing arena.
It has never recovered from the acrimony of his departure from Arsenal to Chelsea in 2006 and his acquisition of the less-than-affectionate nickname "Cashley" when he claimed he "almost swerved off the road in shock" when he discovered a new contract offer from the Gunners amounted to merely £55,000-a-week.
The headlines generated by his marriage to Girls Aloud singer Cheryl Tweedy did not help - and neither did accidentally shooting an intern with an air rifle at Chelsea's Cobham training ground in early 2011.
Even this season Cole claimed the spotlight for the wrong reasons with an abusive tweet aimed at the Football Association after their handling of allegations that his club and country colleague John Terry racially abused QPR's Anton Ferdinand. A swift removal and apology failed to prevent a £90,000 fine.
Cole now shies away from dealing with the media group that follows England, although he did break his silence to speak to BBC Sport at England's base in Krakow during Euro 2012. He revealed himself to be a personable, polite, modest and interesting interviewee who left behind nothing other than a good impression.
To twist an old Harry Enfield catchphrase - he does a lot of great work for England, he just doesn't like to talk about it.
Cole's England colleagues and managers are more than happy to speak on his behalf and the testimonies are never less than glowing.
England captain Steven Gerrard says: "It has been an absolute pleasure to play with him. He's been one of the best left-backs this country has produced. Let's enjoy the last few years of his time with us.
"I don't know what the media's opinion of him is. It is important to speak about Ashley Cole the player and he is a top, top player. He is a bit like me in that he is quite quiet, reserved off the pitch but then comes alive on it."
Speaking before the friendly against next year's World Cup hosts, Gerrard added: "I think it is very important the crowd respect Ashley. If the fans take a moment to think what Ashley has given England over the last 10 or 12 years then it has been phenomenal.
"It's going to be Ashley's night if he is picked to play and the players are going to show him a lot of support. Nobody in that ground can take that away from him on Wednesday - he deserves to be a 100-cap player."
One of Cole's predecessors as the national team's left-back, England Under-21 coach Stuart Pearce, is typically passionate in his view on a world-class player who has developed into a divisive figure.
"I'm going to the game on Wednesday," said Pearce. "I shall be standing and cheering when his name is announced. In my mind he's the best left-back that has ever played for England. That's a fact in my eyes."
Maybe Wednesday is the time for England's fans to make a footballing judgement on Cole as he becomes the seventh player to reach a century of appearances for England after Charlton, Beckham, Billy Wright, Bobby Moore, Peter Shilton and Gerrard.
Judged on this criteria alone, Cole deserves a prolonged standing ovation at Wembley - one even his fiercest detractors would struggle to begrudge him.
No-one who has witnessed his remarkable consistency for England over a span of 12 years could argue against it because they have been privileged to watch a master of his trade at work.
This observer still recalls a hot and humid night in Lisbon's famous Stadium of Light in late June 2004 when Cole was placed against Portugal's young Cristiano Ronaldo in a quarter-final England eventually lost on penalties.
By common consent Cole's display in mastering his wonderful opponent remains one of the greatest in recent England memory. Showing courage and relentless determination, Ronaldo ran at Cole time and again - only to be frustrated time and again.
It was a battle within a battle, two great talents confronting each other with contrasting qualities. England may not have won but Cole did.
Cole reaches his 100-cap landmark under greater pressure for his place than ever before after the emergence of Everton's outstanding defender Leighton Baines, who is now providing serious competition.
The older man remains England manager Roy Hodgson's preferred choice. Baines offers a greater attacking threat with his brilliance at set-pieces and with his marauding left-flank runs but Cole offers greater security in defence.
Cole also remains an attacking force, less so than Baines, but when experience is included in the full package of both players, the equation still favours the old champion over the contender.
England's fans have the opportunity to reflect on the consistency and quality Cole has delivered for them when he reaches his landmark at Wembley. And he may even get the credit his football achievements thoroughly deserve.