Coventry City: Ricoh Arena exit contingency plans in place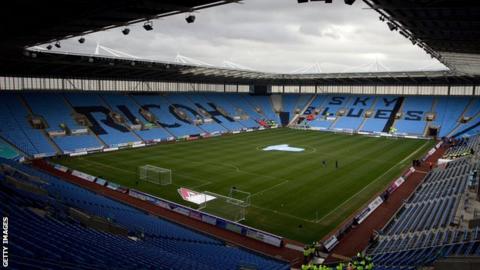 Coventry City are planning for a future away from the Ricoh Arena next season after being "locked out" of the ground.
Arena Coventry Limited, who manage the stadium on behalf of its owners, are in a year-long rent row with the club.
Sky Blues chief executive Tim Fisher said: "It is with great regret that we now have no alternative but to consider other arrangements for next season."
But in a statement, ACL said it would be "delighted" if Coventry played at the Ricoh next season.
Coventry, who finished 15th in League One, agreed a short-term deal to finish their season at the stadium following reports that they might try to play home games elsewhere.
Fisher continued: "We would be failing the club, its supporters and its staff if we did not start making such plans now.
"We have been told that there is no further room for negotiation and an offer that we made to get back round the negotiating table has been rejected.
"The fact is that we are being locked out of the Ricoh Arena."
But James Powell of law firm Walker Morris, representing ACL, countered: "We are absolutely flabbergasted by Tim Fisher's statement.
"So that there can be no doubt in the minds of Sky Blues supporters, ACL have not locked the football club out of the Ricoh Arena.
"ACL have consistently acted to try to save the football club and to ensure that the football club continues to play at the Ricoh Arena.
"Indeed, ACL has already committed a significant level of funding to ensure that the pitch is improved for next season, after the club ceased to commit investment in the pitch towards the end of last season.
"So that there can be no doubt whatsoever among Sky Blues fans, ACL would be delighted for Coventry City Football Club to play at the Ricoh Arena next season. Nobody connected to the football club has yet approached ACL in this regard."
The club's owners, Sisu, have been at loggerheads with ACL since they stopped paying their £100,000 monthly rent in April 2012, claiming that it is too high given the fact the club are only tenants and make no money from the sale of refreshments and on-site facilities at the ground.
Discussions between Sisu and ACL collapsed in February, with the Ricoh Arena owners saying they would not resume until the club accepted an agreement drawn up in January.
That agreement included a new rent of £400,000 per year and an offer to write off £300,000 from the £1.3m that Sisu owe.
Following the collapse of talks, Coventry had their bank accounts frozen after ACL issued the club with Third Party Debt Orders in an attempt to collect the rent arrears.
That led to the side being put into administration and subsequently receiving a 10-point deduction by the Football League.
The club had taken the decision to empty their Ricoh Arena offices and shop in March, and could now look to leave their home since 2005, following their relocation from Highfield Road.
ACL manage the stadium for joint owners the Alan Edward Higgs Charity and Coventry City Council, who the club are taking to court over its decision to lend £14m to the firm.
American property tycoon Preston Haskell IV has been linked with a takeover of the Sky Blues.
Fisher added: "The club is keeping the relevant football authorities fully informed of developments, and we will keep everyone informed when there is specific further news."