Ray Clemence to retire from Football Association role
Last updated on .From the section England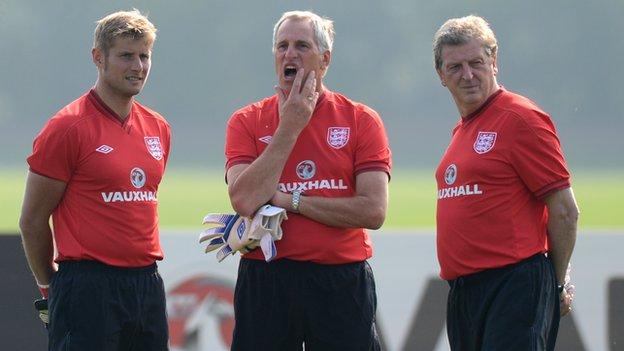 Former England goalkeeper Ray Clemence is to retire from his role as Head of National Teams at the Football Association at the end of October.
The 65-year-old, who made his name at Liverpool, won 61 caps for England and joined the FA as goalkeeping coach under manager Glenn Hoddle in 1996.
"I have been lucky to have had 47 years in this wonderful game, 17 of which have been spent at the FA," he said.
"I have been fortunate to meet and work with some wonderful people."
Clemence began playing at Scunthorpe United and made 665 appearances for Liverpool in all competitions, before spending the last seven years of his career at Tottenham.
He won three European Cups, five League Championships, one FA Cup, one League Cup and two Uefa Cups in a glorious Liverpool career.
He gained managerial experience at Tottenham as joint first-team coach with Doug Livermore in 1992 before becoming manager of Barnet for two years in 1994.
Clemence has worked as goalkeeping coach for every England manager since Hoddle before taking on his current wider role across all England development teams.
He added: "I have enjoyed working with great players and also seeing young players start in the Under-16s development team and progress through those teams to the senior side.
"There are some frustrations working in the FA, but it is full of hard working dedicated staff who are all trying to improve the state of the game.
"I leave with many happy memories that will stay with me for the rest of my life."
Former England international Sir Trevor Brooking, the FA's director of football developments, said: "His standards both as a player and as a coach have been relentlessly high, and particularly in my time I have seen his impact on a succession of young players who have come through and established themselves at the highest level."