England: San Marino & Estonia qualifiers offer challenges

By Phil McNulty
Chief football writer
Last updated on .From the section England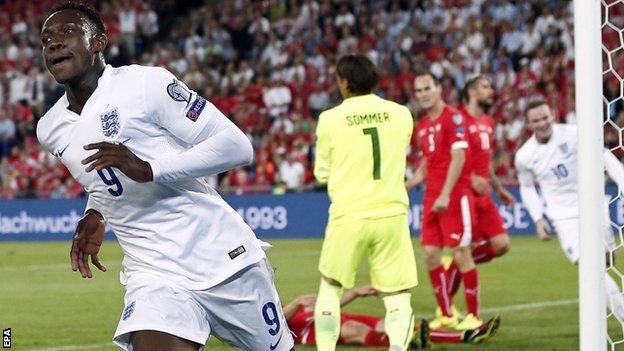 England's opening Euro 2016 qualifier win against Switzerland in Basel has been portrayed as the result that effectively opened up manager Roy Hodgson's route to France.
The visit to Switzerland was the most hazardous journey in a kind draw that also put England in with San Marino, Estonia, Slovenia and Lithuania - and the victory cleared some heads after the trauma of the failed World Cup campaign in Brazil.
Qualifying resumes with San Marino's visit to Wembley on Thursday before England travel to Tallinn to face Estonia on Sunday.
San Marino are familiar opponents for England after they met in the World Cup qualifying group, Hodgson's side scoring 13 goals without reply against a hapless footballing nation who ended their campaign with a goal difference of minus 53.
Both fixtures are regarded as the footballing equivalent of foregone conclusions - so what will Hodgson be looking for as he heads into the next phase of the campaign to qualify for Euro 2016?
Build on Switzerland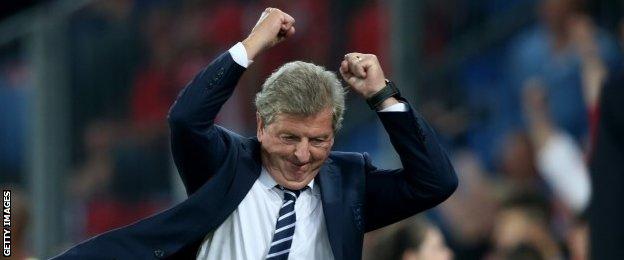 The 2-0 win in Basel restored some semblance of order to England and Hodgson's reign in general after they left Brazil at the end of the group stage without a win - so now the foundations have been laid for more rebuilding of confidence.
Former England international Phil Neville told BBC Sport: "I think with the quality of other teams in the group and how things stand, the target has to be winning both matches and building on the level of performance from the win against Switzerland.
"What is positive about the situation is that we can give players experience of playing in big competitive international games that England are still expected to win, but perhaps under less pressure than usual."
Group E world rankings (in brackets)
Switzerland (10)
England (18)
Slovenia (53)
Estonia (81)
Lithuania (103)
San Marino (208)
Rankings last updated 18 September 2014. Next release on 23 October 2014
Graham Taylor, the former England manager, added: "I was surprised by how confident England looked in Switzerland. They looked like they expected to win, like a side who were in the mood not to mess about and get the job done, which they did.
"Roy will be looking to build on that and the same attitude needs to be transmitted to these two games.
"It is a danger that some people are already saying we've qualified after winning what most regard as our most difficult game away to Switzerland. I've never known a team qualify for a major tournament with one victory in their first game."
No easy games in international football?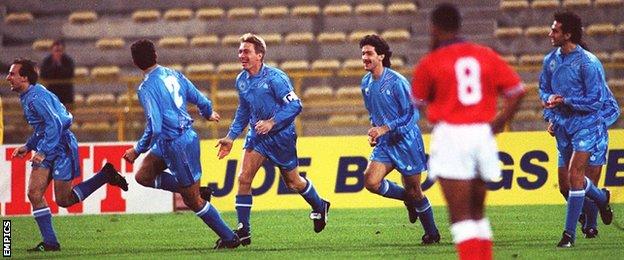 So they all say, but San Marino are surely the closest to giving the lie to that old cliché, while Estonia failed to score in two Euro 2008 qualifiers against England, both ending in 3-0 wins.
Apart from 10 straight defeats in their 2014 World Cup qualifiers, San Marino have lost every one of their last 64 qualifying matches since a 1-1 draw in Latvia in 2001.
Since that landmark result they have conceded 295 goals in qualifying matches, scoring only seven in reply.
England record v San Marino
Played:
4.
Won:
4.
Draw:
0.
Lost:
0.
Goals scored:
26.
Goals conceded:
1
England have scored 26 goals in four previous meetings with San Marino, conceding once.
Taylor was the man in charge of England when they conceded that goal just 8.3 seconds after kick-off to computer salesman Davide Gualtieri in Bologna at the end of their failed campaign to qualify for the 1994 World Cup.
England recovered to win 7-1, so how will Hodgson convince his players that this is a task to be taken on with the utmost professionalism?
England record v Estonia
Played:
2.
Won:
2.
Draw:
0.
Lost:
0.
Goals scored:
6.
Goals conceded:
0
Taylor told BBC Sport: "I've experienced this and you simply have to keep professional standards and remind the players that this is a competitive international. We must keep professional, set the standards and commit ourselves to this game as if we were playing a much better team or a bigger nation and I have no doubts a manager with as much experience as Roy Hodgson will do that.
"I well recall that game against San Marino. We kicked off and a back-pass from Stuart Pearce fell short and we were a goal down inside the first 10 seconds. I remember sitting on the bench looking up at the sky and thinking: "God - what have I done wrong? If I've upset someone please let me know and I will apologise.
"We eventually won 7-1 but both San Marino and Estonia are games that if we don't win there will a major surprise and a massive amount of criticism - but you can't allow yourself to fall below very good professional standards.
"It is one of those games where anything but a comprehensive win is likely to bring criticism. A lot of people will be expecting a four or five-goal victory here but the most important thing is to actually get the victory, not starting to think this will be 5-0 or anything like that."
Is Wilshere England's diamond?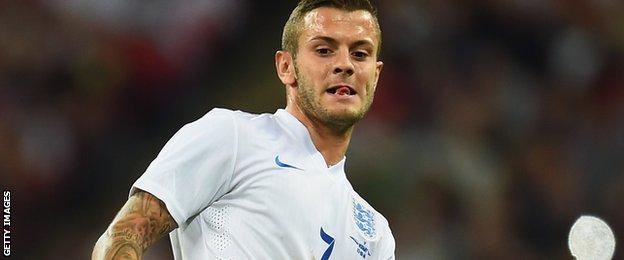 Jack Wilshere played as the defensive part of the diamond formation Hodgson used in Basel - an unaccustomed position for a midfield player best known for his attacking intent and surging runs into opposition territory.
It remains to be seen whether Hodgson repeats the ploy against weaker opposition.
Phil Neville believes he should: "I am looking forward to seeing Jack playing again in that holding position because although we know he has got great qualities going forward, he has the technical ability to really excel in that role.
"These games give him the opportunity to learn and develop in that position in what are maybe less pressurised conditions. We will see if he is going to grow into that role."
Taylor added: "A lot of people, and it is down to Roy himself of course, don't see that Wilshere will 1) be able to hold himself back and 2) that that's the best way to play him. Wilshere makes everybody move to the edge of their seats when he goes on runs and moves past people and creates things out of nothing.
"Wilshere's bursts from midfield in possession of the ball are more likely to happen against a side like San Marino than a much stronger nation and it is the same when you get pace in the side, from someone such as Alex Oxlade-Chamberlain."
Time for experimentation?
Hodgson will want to keep England's winning start intact against two teams who are markedly weaker than his - but will he go as far as to experiment in a competitive environment?
"This is all about qualifying, not saying 'this is San Marino, we'll try a different thing'. That's when you can get an upset or it can go wrong for you," Taylor said.
"I would treat this as a competitive qualifier and establish that mindset and environment and if at the end of the day you win it well, that's fine. Certainly the San Marino game, even if we thrash them people will say they expect that anyway. You're not going to get any praise.
Did Taylor not like that
To reach USA '94, England needed to win their final game of a calamitous campaign by seven goals
Having conceded after just 8.3 second against San Marino, England went on to win 7-1 in what was Graham Taylor's last game in charge
However, they also needed Poland to beat Netherlands
The score at half-time in Poznan was 1-1 but Dennis Bergkamp put the Dutch ahead before the hour mark and Ronald de Boer's late goal extinguished all hope for England
"The only chance of getting real praise is if you really thrash them and people say 'that's got to be done' but most people will expect England to thrash San Marino anyway."
Neville said: "We have to be able to trust these young players to go out there and play. Eventually they will play better opposition, and I think that getting them ready for that is one of the things we will get from being in this group.
"I think we coped without Daniel Sturridge very well against Switzerland but maybe against a team like San Marino, who are an awful team to play against because you are on a hiding to nothing when you play them, we might miss a player like him more to offer that extra bit of spark in attack.
"But we haven't got Sturridge available so it is probably an opportunity for Wayne Rooney to play in his best position, which is up front on his own and others to play off and around him."