England: Roy Hodgson seeks performance over goals
Last updated on .From the section Football
England manager Roy Hodgson says performance is more important than scoring lots of goals in Thursday's Euro 2016 qualifier against San Marino.
The Three Lions, who won 2-0 in Switzerland in their Group E opener, have not scored fewer than five goals in four previous meetings with the joint-lowest ranked team in the world.
"It's about performance," Hodgson said.
"At no time in my talks with the players have we mentioned the number of goals scored."
The game against San Marino at Wembley is the first of a qualifying double header, with Hodgson's side in Estonia on Sunday.
Captain Wayne Rooney could become his country's third-highest scorer of all time, with the Manchester United forward four goals away from surpassing Jimmy Greaves' tally of 44.
Sorry reading for San Marino

Two England players have scored four goals in past meetings with San Marino - David Platt in 1993 and Ian Wright later in the year

In their four meetings with San Marino, England have scored 26 goals and conceded just one

The one goal they conceded was David Gualtieri's goal after 8.3 seconds in a World Cup qualifier in 1993 - the fastest ever goal in the history of the World Cup

San Marino, in joint-208th place in the Fifa world rankings, have won just one official fixture, a friendly against Liechtenstein in April 2004
"I haven't specifically gone out of my way to look at the record but it's there and if I can overtake him this week, or in the coming weeks or months, that would be great," Rooney said.
"But I'm not going into the game thinking I've got to beat Jimmy Greaves' record.
"The most important thing for us is to perform well and win games."
After a disappointing World Cup campaign in which they finished bottom of their group and without a win in three games, England secured back-to-back wins against Norway and Switzerland last month, scoring three goals and conceding none in the process.
"We are keen to keep the momentum going," Hodgson added.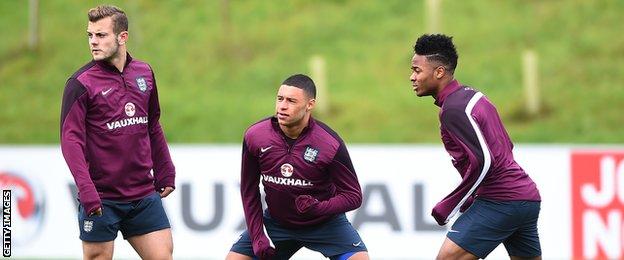 "I think the players who played against Norway and against Switzerland did a good job and deserve a further confidence.
"But on the other hand, there are a lot of players who are knocking on the door and would like to get into the team and I've got to weigh the two things very carefully.
"Keeping the team together but maybe also using at least one of these two games as a chance to see somebody else play."