Badminton Horse Trials: Mark Todd wins fourth title
By Ollie Williams
BBC Sport at Badminton
Last updated on .From the section Equestrian
Mark Todd held his nerve to clinch a fourth Badminton Horse Trials title in the showjumping arena on Monday, 31 years after his first win in the event.
The New Zealander, 55, posted a clear round aboard NZB Land Vision to defeat Britain's Piggy French and Jakata.
"This is huge. To do it 31 years after my first win is incredible," said Todd.
An equestrian legend, Todd won back-to-back individual Olympic eventing gold medals at Los Angeles 1984 and Seoul 1988, alongside bronze at Sydney 2000.
His return to the top at Badminton 2011 illustrates that British success at the 2012 Olympics is by no means guaranteed even though they have one of the strongest eventing line-ups in the world - including the defending team world champions.
"This is up there with the back-to-back golds," said Todd, whose other Badminton victories came in 1980, 1994 and 1996.
"I was feeling really relaxed about this and I didn't know whether that was a good sign or not. When you're sitting on a horse that you know jumps, it gives you confidence.
"This horse has no weak links and I think he can only get better. He's maturing all the time."
Todd, who led overnight following the cross-country stage, was the last to compete inside the jumping arena and had to produce a clear round to have any chance of winning.
He did so, narrowly going under the time barrier beyond which penalty points would be incurred, to score 43.6 ahead of French's 45.2.
French had also gone clear but a succession of other leading riders, including New Zealand's Andrew Nicholson, Britain's Nicola Wilson and Germany's Marina Kohncke, all knocked down fences as the pressure told.
That elevated British veteran Mary King, a Badminton winner in 1992 and 2000, to third place on Imperial Cavalier, with Australia's Sam Griffiths fourth on Happy Times and Sweden's Niklas Lindback fifth with Mister Pooh.
"Jakata was fabulous, he jumped beautifully and I'm thrilled. It's unreal," said French, who - with a previous best Badminton finish of 31st - was barely able to watch Todd's round.
"I enjoy the showjumping. I feel more relaxed doing that than the other two [dressage and cross country] - there's something about getting this far."
King, 49, said: "I'm absolutely over the moon with Imperial Cavalier, he's a magnificent horse. He just needs to get the dressage a bit under control."
Only two horses failed to make it through Monday morning's final inspection, which was to make sure that horses which completed Sunday's cross-country were in sufficient health to continue competing.
Ireland's Aoife Clark withdrew one of her two horses, Vaguely North, before the inspection while Flora Harris's Law Choice was held during the inspection and later also withdrawn.
Todd had been promoted to the lead late on Sunday as organisers corrected a cross-country timing error and relegated Germany's Kohncke, riding Calma Schelly, to second.
Kohncke eventually finished ninth, while world number one William Fox-Pitt had to settle for 13th and 15th respectively on his two horses, Cool Mountain and Navigator.
Laura Collett, who initially led at Badminton on her senior debut here, came eighth on Rayef.
This year's Badminton has acted as one of the first major Olympic qualifiers for London 2012. However, the emphasis lies on qualifying the horse, not the rider.
Until the end of June next year, any horse which completes a four-star event (eventing's toughest) or two three-star events earns the right to enter the Olympic Games.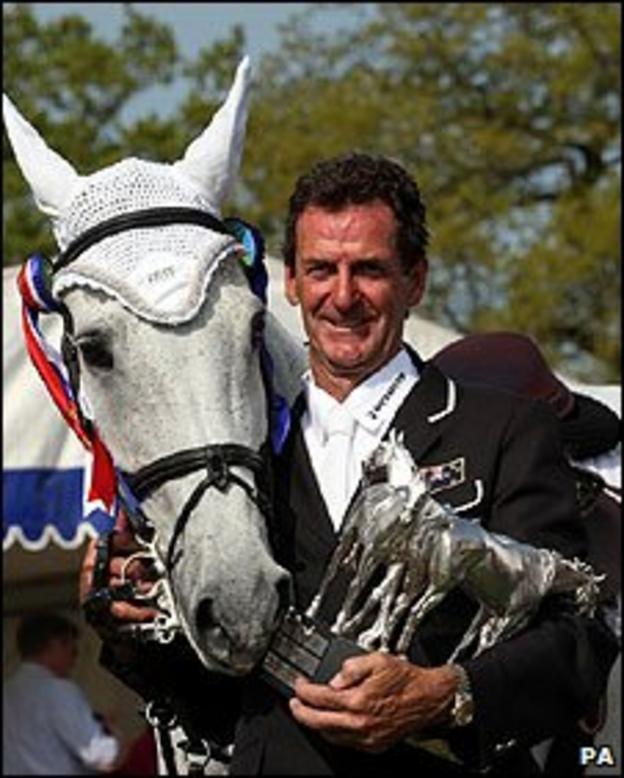 Badminton falls quite early in that period but, as one of only seven four-star events in the world, it offers an excellent opportunity to qualify horses because all they need do to earn the qualifying standard is finish the entire competition without being eliminated or withdrawn.
The more horses a rider can qualify, the better his or her chances of reaching the Games. This is because back-up horses will allow riders to compete even if their top horse is injured or suffers a loss of form.
"The more top combinations [of horse and rider] we get qualified early, the easier it is to make plans later," Yogi Breisner, British Eventing's performance manager, told BBC Sport.
"It means we can plan where to go in 2012 in the interests of preparing for the Games, rather than having to carry on seeking qualification.
"The priority at Badminton is to get a team together for this year's European Championships [in Germany in August]."
Though horses may now qualify for the Games, that does not guarantee their selection - and, with just five places available for British riders at London 2012, GB's selectors may face tough decisions in just over a year's time.
Eventing's focus now switches to Lexington in Kentucky, where the next four-star three-day event begins on Thursday.
Top British riders such as Fox-Pitt had horses transported to the United States while competing with others at Badminton, in order to take part in both events.