British Eventing delighted at Badminton 2011 showing
By Ollie Williams
BBC Sport
Last updated on .From the section Equestrian
British Eventing believes it has the five "very rare, absolute world-class combinations" required to challenge for gold at the London 2012 Olympic Games.
Britain's Piggy French came second at Badminton on Monday, while William Fox-Pitt began 2011 as world number one.
"People say we're very lucky, we've got a lot of combinations, but you're still looking for those," said Yogi Breisner, British Eventing's performance manager.
"We need five [combinations for 2012] and I'd like to think we've got five."
In eventing terms, combinations refer to partnerships between horse and rider.
French and her horse Jakata have now qualified for the Olympic Games by virtue of completing Badminton Horse Trials - one of only seven four-star events [the highest star rating available] in the world.
The qualification period runs until the end of June next year and horses qualify for the Games by finishing one four-star event or two slightly less demanding three-star events.
Events can be difficult to complete, with 28 horses - one third of the field - failing to do so at Badminton.
Getting to the end is considered sufficient to qualify a horse for the Olympics, which is usually set to a slightly less-demanding standard than other four-star events and is hence considered an "easier" competition than Badminton.
Mary King finished third at Badminton on Imperial Cavalier, qualifying that horse for 2012, while Fox-Pitt similarly qualified both Cool Mountain and Navigator despite failing to mount a serious title challenge with either.
New Zealander Mark Todd's victory on Monday, his fourth Badminton success in a staggering 31-year period, showed Britain will find it hard to win gold in 2012.
But half of the top 20 horses at Badminton were British, while seven British riders occupied places in the world top 20 when eventing's world rankings were last issued at the end of March.
"There are lots of opportunities to qualify horses but the more of the top combinations we get qualified early on, the easier it is to make plans afterwards," said Breisner.
"Then we can plan where to go in the interests of preparing for the Games, rather than having to seek qualification.
"The priority at Badminton is to get a team together for this year's European Championships [in Germany, in August].
"Then we'll look at how the horses compete at the major competitions in the autumn. We've got Burghley and Blenheim after the Europeans, so there are lots of opportunities for horses to get that qualification and catch the selectors' eye."
Breisner believes Laura Collett, Polly Stockton and Harry Meade improved their Olympic chances as a result of their performances at Badminton.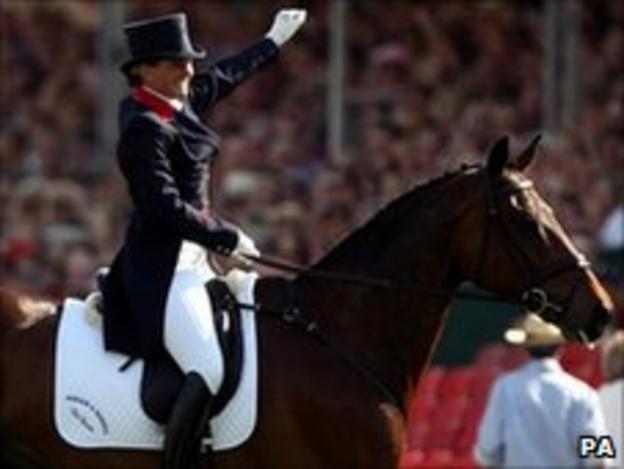 "It was Laura's first Badminton. Rayef is her main horse and he's come back from a period off with injury and performed extremely well," he said.
"Polly has been away for a year having had a baby, and - even though she didn't go that fast in the cross-country - Westwood Poser is already a proven horse, it's good to see the two of them come back together.
"And Harry Meade was very impressive in the cross-country. There are young combinations coming through."
Breisner also suggested to BBC Sport that Zara Phillips' hopes of competing at London 2012 were not yet dead in the water, despite several years plagued by injuries to both herself and her horses.
"Zara has got some very nice young horses - two of those are stepping up to three-star level this spring and if they should go out and win, then confirm that form in the autumn, you couldn't rule it out," he said.
"If you looked at Piggy French and Jakata, and Pippa Funnell and Redesigned, and asked the question about those horses this time last year, you'd have said they were very unlikely to go to the World Equestrian Games.
"Yet they went there and performed extremely well. In this sport anything is possible, and that's what makes it exciting."