Piggy French leads at Olympic equestrian test event
By Ollie Williams
BBC Sport in Greenwich Park, London
Last updated on .From the section Equestrian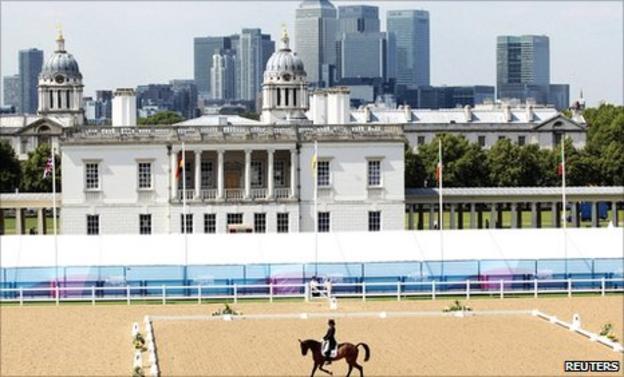 Britain's Piggy French holds the lead after a faultless cross-country phase at the Olympic equestrian test event inside London's Greenwich Park.
French and horse DHI Topper W - who led after Monday's dressage - hold a seven-point lead over Sweden's Sara Algotsson with Germany's Michael Jung in third.
"We're hosting the Olympics and want to put a stamp on it," said French.
The test event, London's third after the marathon and Wimbledon tennis, concludes with jumping on Wednesday.
French holds a score of 34.70 with Algotsson on 41.60, marginally ahead of Jung's 41.80.
Penalty points are accrued for faults like refusing to jump fences, or failing to clear them cleanly. The rider with the fewest penalty points wins.
Organisers are using the three-day eventing competition - one of three Olympic equestrian events, which combines jumping with dressage and cross-country - to test the park's capabilities ahead of London 2012.
Alongside eventing, Greenwich will host pure dressage and jumping events at the Games as well as modern pentathlon's equestrian and run-shoot finale.
Arrangements for the 2011 test event do not precisely match those which will be in place next year.
The main difference is the cross-country course, which is only half the length of its Olympic equivalent, with a number of key jumps and drops still to be introduced.
The 2011 competition therefore receives only a two-star difficulty rating compared to the maximum four-star Olympic event. This means victory here will be of symbolic rather than competitive significance.
But the event does provide an opportunity for riders to sample a testing, hilly course whose London backdrop is far removed from the traditional rural landscape of the sport's biggest events, such as Badminton and Burghley.
"It's not the be-all and end-all but we're competitive and always like to do the best we can," said French.
"The course rides very well but very quick, the terrain is very testing on horses and riders, both mentally and physically."
Fellow British rider William Fox-Pitt spoke of a "real buzz" riding the course, with hundreds of local schoolchildren invited to spectate by organisers.
"There was a lot of cheering and lots of children, who seem to be loving it," he said.
"The course rode well - it's a bit like a BMX track.
"The ideal Greenwich horse will be a proper equine athlete; a horse that changes gear effortlessly and that will turn when you ask."
Fox-Pitt is ninth in the standings after Tuesday's cross-country while Britain's other representative at Greenwich, Pippa Funnell, is fifth behind Australia's Clayton Fredericks.