Whitaker 'very sorry' after hotel incident at Hickstead
Last updated on .From the section Equestrian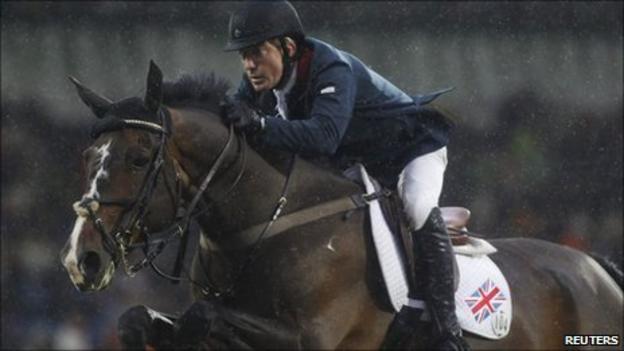 Michael Whitaker has apologised to his Great Britain team-mates after he withdrew from Hickstead following a late-night disturbance at his hotel.
The 51-year-old, who is ranked second in Great Britain, will make a donation to charity by way of a general apology.
Whitaker helped Britain to fourth in the Nations Cup on Friday but police were called to his hotel, around 20 miles from Hickstead, that night.
"Michael is very sorry that he let his team-mates down," a statement read.
"Following a discussion between Michael Whitaker, performance manager Rob Hoekstra and performance director Will Connell, Michael has agreed to make a donation to a charity of his choice by way of an apology.
"Michael accepts that he should not have allowed himself to be in a situation where he could have been caught up in an incident.
"Michael is now focused on delivering another stirling performance in the Nations Cup competition in Dublin."
Whitaker subsequently withdrew from the headline event of the British season but, having not been charged by police, is in GB's team for the Dublin Nation Cup on Friday.
"No further statement will be issued on the matter, and all focus is now on Dublin," the joint-statement by the British Equestrian Federation and British Showjumping concluded.
Whitaker, winner of 14 major championship medals, including Olympic silver at the 1984 Los Angeles Games, pulled both his entered horses, Ingliston Twister and VIking V, from Hickstead's Queen Elizabeth II Cup and the Speed Classic on Saturday.
The former world number one had also been among the pre-event favourites for Sunday's King George V Gold Cup on Sunday aboard his probable London 2012 horse Gig Amai.
The competition carries a first prize of £56,000, British showjumping's richest purse.