London 2012: Cheltenham helping Tina Cook's Olympic bid
Last updated on .From the section Equestrian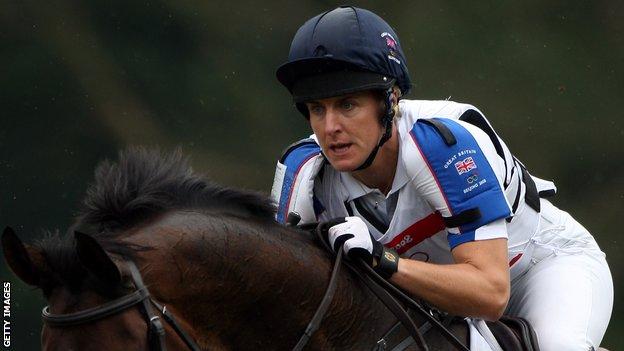 Emotional sporting triumphs are a signature of eventer Tina Cook's family history - and she may provide another poignant story this year.
The 41-year-old's father, Josh Gifford, famously nursed back to health frail racehorse Aldaniti to win the 1981 Grand National for jockey Bob Champion, who had recovered from cancer.
Gifford died of a heart attack in February, just five months before Cook hopes to go for Olympic equestrian gold on a horse who survived a life-threatening illness.
At the concluding charity race at the Cheltenham Festival on Thursday she won the St Patrick's Derby in aid of Cancer Research UK on her brother Nick Gifford's horse Pascha Bere.
Her participation was inspired by a wager struck with BBC presenter Rishi Persad, who dared her to ride in a race.
After securing victory by over a length from Worcester Royal Hospital staff nurse Lindsey Hunting on Wild Desert and Coolmore Stud employee Wendy Normile on Price Of Fire, Cook told the Racing Post: "It's absolutely brilliant. It's so exciting and a total thrill. I loved it.
"I came down the bottom of the hill and just started passing horses and I thought, 'let's go for it.'"
The mother-of-two admitted she had been subjected to some familial ribbing before her Cheltenham debut.
"They all took the mickey out of me at home saying 'don't fall off and don't get left at the start'," she said.
"It's all about Cheltenham today - the Olympics would be another dream. Huge amounts of money have been raised for a really good cause and there's been such a good team involved."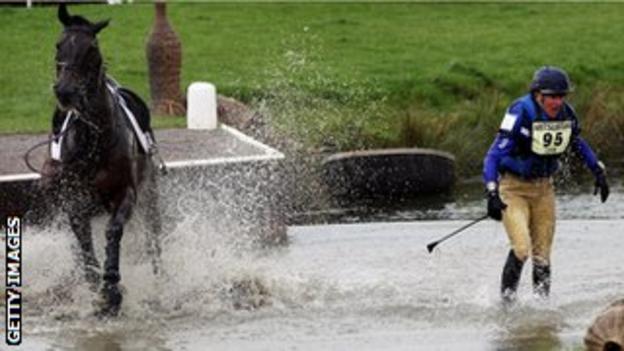 Cook won team and individual bronze for Great Britain on Miners Frolic at the 2008 Games in Beijing, but the horse developed a mystery illness a year before the 2012 Olympic equestrian event at Greenwich.
He had a lump on the side of his back, underneath where the saddle would be placed, and developed colitis which almost killed him after he reacted badly to a six-week course of antibiotics.
"He very nearly died and only 50% of horses survive it," said Cook, from Findon, West Sussex.
"My thoughts were with the horse and it was very upsetting. He was dying in such a horrible way and I had to accept my Olympics were over.
"One evening they said 'we have done all we can, it's cruel to keep him alive any longer'."
But after five blood transfusions and a week on drips in intensive care at the Arundel Equine Clinic, he survived.
"I don't know how he came back to health. I just think he is a fighter and it is one of those miracles that he pulled through. It was amazing how he put weight on so quickly," she said.
The 13-year-old gelding was nursed back to fitness and the pair's performance last month at Ireland's Ballindenisk horse trials, where they finished third, met Olympic qualification criteria.
Now it is down to the selectors whether Cook makes the five-strong British team, which will be named after the Chatsworth trials in May.
She will compete at Belton in Lincolnshire at the end of this month before skipping the Badminton event in early May in favour of Chatsworth.
"We're back in the mix, but I don't think Badminton is the right preparation for him," she said.
"It's a galloping track, fast and furious. Putting the horse under that pressure and then building him up again for the Olympics wouldn't be right."
Cook believes William Fox-Pitt is a certainty to be selected, and lists Mary King, Piggy French, Nicola Wilson, Pippa Funnell and Zara Phillips among other leading contenders for a place.
"There are probably eight or nine riders, all with experience at the top level, going for five places," she said.
It was a late injury to Phillips' horse in 2008 that let Cook in as a reserve after a series of Olympic disappointments.
A foot abcess ruled Cook's mount out of the 1996 Atlanta Games, she travelled to Sydney four years later as a reserve but did not compete, and just missed out on selection for Athens in 2004.
"Just because I won bronze four years ago, doesn't mean I automatically get a slot. You have to keep up your performances," said Cook.
"It's heartbreaking being a reserve because the only way you can compete is if someone else has a disaster."
Cook was very close to her father and they clearly held a mutual admiration.
"We are a very emotional family. He's passed it down and I know he was very proud of me in Beijing and I was very proud of what he achieved. He worked incredibly hard as a jockey and trainer," she said.
"I would love him to be here, but sadly he's not. I know he would want me to do as well as I can.
"I'm not thinking I need to do it because I would love Dad to be here watching. I have enough motivation anyway.
"It would be a dream come true to be there and anyone would miss one of their parents not being around."
Having savoured success at an Olympics once, Cook wants that feeling again.
"The emotion and adrenaline from winning the bronze was totally amazing. To come out with a medal as an underdog was unbelievable," she said.
"I would be intending to go to London with a chance of winning. I've got the experience, I've got the horse and I'd be going for gold, and a winner at Cheltenham along the way wouldn't do any harm."