Show jumper Tim Stockdale targets Royal Windsor win
Last updated on .From the section Equestrian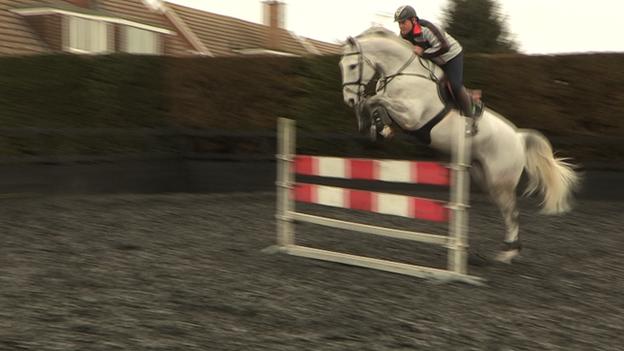 Great Britain showjumper Tim Stockdale is targeting victory at May's Royal Windsor Horse Show to demonstrate his successful return from injury.
The 47-year-old from Roade placed fifth at the Grand Prix at Addington Manor in late March, in the latest step in his recovery from a broken neck.
Stockdale told BBC Northampton: "If it wasn't an Olympic year, I'd be taking things a bit easier.
"My intention is to win [at Royal Windsor] to tell people that I'm back."
Stockdale was part of the GB team that finished fourth at the 2008 Games. The five-strong team for the London 2012 Games will be selected in July.
"The injury isn't 100% healed so I'm risking things slightly by getting back in the saddle," he added.
"I want to give myself every opportunity I can for the Games. I've still got a bit of a mountain to climb yet, but it's going very well."
The Worksop-born show jumper is set to compete in Nuneaton and three international events in France throughout April, prior to Royal Windsor.
"I've got to produce a bit of form but I would suggest that even if you're picking [an] eight at the moment, I'm getting very close to being in that eight, and some people would say I'm in it."
He was treated at the Spinal Unit at Oswestry in Shropshire for six weeks after his fall from a young horse in mid-Wales.
"The amount of messages, cards and letters I got in hospital, it was tremendous. It's been very humbling.
"That's another reason why I want to give it a good go, because all these people wished me well and it'd be fantastic if I could give it a shot."