Badminton Horse Trials 2012: Heavy rain forces cancellation
Last updated on .From the section Olympics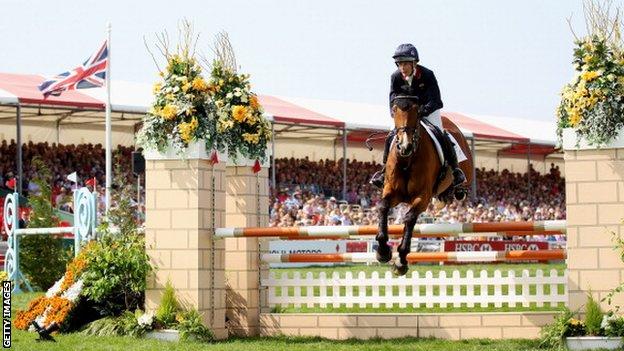 The 2012 Badminton Horse Trials have been cancelled because of heavy rain.
Event director Hugh Thomas said: "The recent exceptional rainfall has left the ground at Badminton totally waterlogged and partially flooded. Further rain is due this week."
World number one William Fox-Pitt had been in line for a £220,000 bonus if he had been successful at Badminton.
He has won at Burghley and Kentucky, with Badminton the third and final part of the Rolex Grand Slam.
Fox-Pitt, Mary King, Piggy French and Nicola Wilson are all expected to feature for Britain during the London 2012 test event at Greenwich Park in July.
Along with the Chatsworth Horse Trials on 11 May, Badminton had been expected to help decide who gets the final place, though most of the top riders were not entered on their potential Olympic horses.
But Great Britain performance manager Yogi Breisne insists the team will not face too much disruption with riders and horses potentially being diverted to other competitions.
He said: "It is a real shame that it has been called off, especially in an Olympic year.
"I don't think it will majorly affect the Olympic preparations though. We always had contingency plans in place which you have to do with horses because there is so much uncertainty. You need to have a Plan B, C and D."
The event was also called off in 2001 due to the foot and mouth outbreak, but it has not been cancelled due to rain since 1987.
BBC2 had been due to screen coverage of Monday's action before the trials fell victim to the weather.