London 2012: Zara Phillips keeps Olympics hope alive
Last updated on .From the section Olympics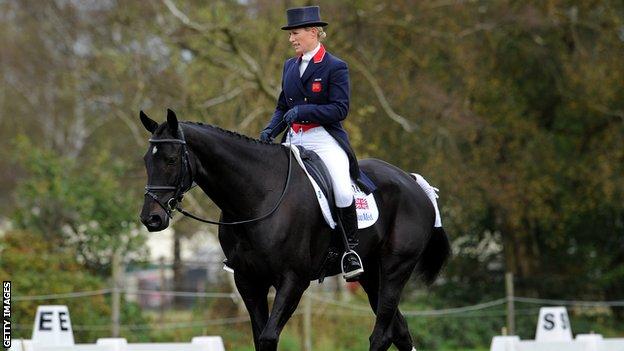 Zara Phillips kept her Olympic hopes alive after a third-place finish behind winner William Fox-Pitt at the Bramham International Horse Trials.
The event was effectively a final trial before the Great Britain selectors announce their team of five for London.
World number one William Fox-Pitt, who along with Mary King, Piggy French and Nicola Wilson is expected to be picked, won both feature three-star classes.
But 2006 world champion Phillips stayed in contention for the final place.
She thrived under pressure on High Kingdom to move up from 10th to third on the final day of the CIC event, beating fellow London contenders Wilson, Tina Cook, Laura Collett and Lucy Wiegersma.
"He's had a great competition with a personal best dressage score, a clear jumping round and a cross country result inside the optimum time, so we couldn't have done much more," Phillips, the Queen's grand-daughter, said of High Kingdom.
"If I could be in London, that would be amazing but we'll have to see what happens.
"He (High Kingdom) has improved loads this year, and it has been great to have had the opportunity to really show to everyone what he can do. He is constantly improving and we are fighting for our spot.
"Competition is so strong that it is probably tougher for the selectors than anyone else. Everybody wants to be at the Olympics, and I am no exception."
Phillips's 2004 and 2008 Olympic selection hopes were dashed by injuries to her former top horse Toytown.
The squad for London is due to be announced later this week.
One person certain to be in it is Fox-Pitt, who wrapped up Bramham's CIC class by going clear inside the time on Neuf des Coeurs, which should put the horse in Olympics selection contention alongside Lionheart and his double four-star winner Parklane Hawk.
And Fox-Pitt's healthy overnight lead was never threatened in the CCI section as he landed his first title with new ride Chilli Morning - his sixth overall title at Bramham, and 49th eventing victory - following a showjumping clear that left them well ahead of runner-up Pippa Funnell (Mirage D'Elle) with Izzy Taylor (Briarlands Matilda) third.
"It is just a question of trying to form a partnership, but it is still very early days," said Fox-Pitt. "I didn't know what to expect in the cross-country, but he ate up the course."
"Neuf de Coeur has really stamped his mark today, which is very exciting," he added. "The pressure was on but I was very happy that he felt so good.
"It's gone as well as I could possibly have hoped and to have three horses in the running for Olympic selection is very exciting, but we'll have to wait and see. They've come out of the competition well, so hopefully they've got a good chance."
Other British riders hoping to make their case for Olympic selection included Weigersma and Wilson, who finished 8th and 11th respectively in the CIC, while Cook had a top-20 result in the CCI event.