Olympics equestrian: Canada fury as Foster's horse is disqualified
Last updated on .From the section Equestrian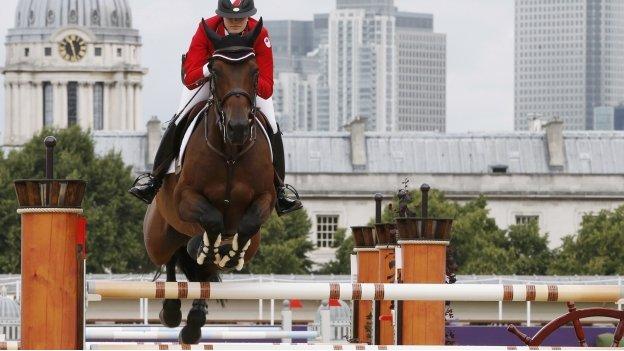 Canada say they are "very, very unhappy" after Tiffany Foster's horse Victor was disqualified from the London Olympics showjumping event.
The horse was deemed unfit to compete because of a leg injury. There was also concern that an injured horse is more cautious over jumps which can help the rider attempting a clear round.
Team captain Eric Lamaze accused judges of "destroying Tiffany's dream."
Canada lodged a protest but decisions on injuries cannot be overturned.
In a statement, the Federation Equestre International [FEI] said: "The Canadian horse Victor, ridden by Tiffany Foster, has been disqualified under the FEI's hypersensitivity protocol due to an area of clear and obvious hypersensitivity on the front of the left forelimb.
"There is no accusation of malpractice, but the horse has been deemed unfit to compete by the Ground Jury."
The decision was announced just 15 minutes before Foster was due to began the first round of the team showjumping competition and Foster, who was competing in her first Olympic Games, left the arena in tears.
Lamaze added: "The horse was only sensitive on that cut, which is normal, but it was not something that could put him in danger of jumping and it was not something that was going to make him gain an advantage in jumping.
"This is something the horse did in the stall, which any horse could do, and they have destroyed Tiffany's Olympic dream."
Canadian team manager Terrance Miller added: "We are very, very unhappy with the decision. It lacks any perspective or commonsense.
"The horse has a little nick that any normal horse could have had by being out riding. The cut could have happened on a rail or in the stall, or anything.
"The rule was put in to protect the horses, but this is just a blind application of a rule without any commonsense at all."
The Canadians are now left with three riders for the team event - Lamaze, Ian Millar, who is competing at a record 10th Olympics, and Jill Henselwood.