Zara Phillips says her career at the top is far from over
Last updated on .From the section Equestrian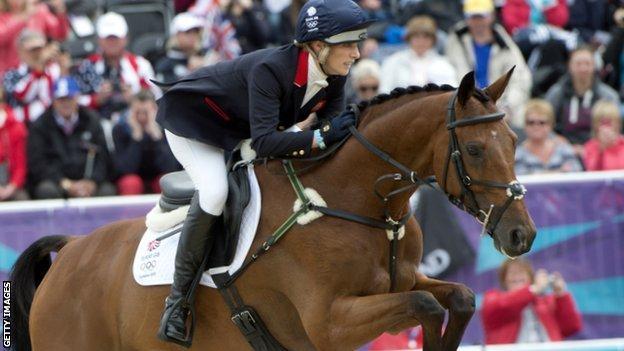 Zara Phillips says she wants to compete at the 2016 Olympics and hopes to have "a good few years" left as a top-level event rider.
But the 2006 world individual three-day eventing champion and London 2012 team silver medallist is determined to compete after the birth.
"I would definitely love to go to another Olympics," she said.
After European and world title wins earlier in her career on Toytown, the chestnut gelding who was retired two years ago, Phillips has built a successful partnership with High Kingdom.
"Hopefully, I'll have another good few years of getting horses to the top level with good results and consistency and keeping High Kingdom on the road, and see what happens," she added.
Phillips initially continued in competitions during the early stages of her pregnancy but has decided to take a break until after the baby is born, and will miss the European Eventing Championships, which start in Sweden next month.
However, she continues to ride out and will perform a dressage exhibition at the Festival of British Eventing, which takes place in Gatcombe Park, Gloucestershire, from Friday to Sunday.
"I was second with High Kingdom in a four-star event at Luhmuhlen [in June], so you couldn't get much better than that before finishing," she said.
"Hopefully I'll get back next year at the beginning of the season and then go from there."
Phillips was voted BBC Sports Personality of the Year in 2006 after triumphing at the World Equestrian Games, and time will be on her side should she target that event next year [in Normandy, August 2014].
While High Kingdom is 12, fellow Olympic medal winner Tina Cook, 42, will ride 15-year-old Miners Frolic at the Europeans in Malmo.
"That's the thing about eventing. Every horse you ride you have got to have a partnership with, otherwise it won't work. It's very much based on you trusting each other," said Phillips.
The Olympic experience has left an indelible imprint on her mind. While 30 July marks her second wedding anniversary to rugby player Mike Tindall, Phillips also notes it is a year to the day that the London 2012 equestrian cross-country event took place in Greenwich Park.
Phillips finished eighth overall in the individual three-day competition as she helped the British team to a silver medal.
This week will be more low key, although more than 45,000 spectators are expected over three days at Gatcombe - the estate owned by her mother, the Princess Royal, who was a European champion in 1971 and competed in three-day eventing at the 1976 Montreal Olympics.
"Gatcombe always attracts a lot of top riders and this has the novice, intermediate and advanced one-day championship," said Zara.
"I'm biased, but people always seem to enjoy it. It's a good, friendly event, where you are able to get up close to the competition."
The event was called off last year because of wet weather but this time is set to see all six members of GB's 2013 European Championships team - Cook, William Fox-Pitt, Piggy French, Tom McEwen, Izzy Taylor and Lucy Wiegersma - taking part.
Phillips believes Fox-Pitt and the New Zealand pair of Andrew Nicholson and Jock Paget will be among the ones to watch.
"William loves Gatcombe and the Kiwis are on fire at the moment. The nations that haven't got the Europeans will be good to watch as they don't need to save their horses as much," she added.
Equestrian safety has been in the spotlight recently and Phillips has echoed the thoughts of rider Laura Collett, who told the BBC a self-inflating air jacket saved her life after a fall.
"It very much depends on the fall but we would all be silly not to have them in case you have that fall where they really could help," she said.