Burghley Horse Trials: 'You cannot make eventing categorically safe'
By Ollie Williams
BBC Olympic sports reporter
Last updated on .From the section Equestrian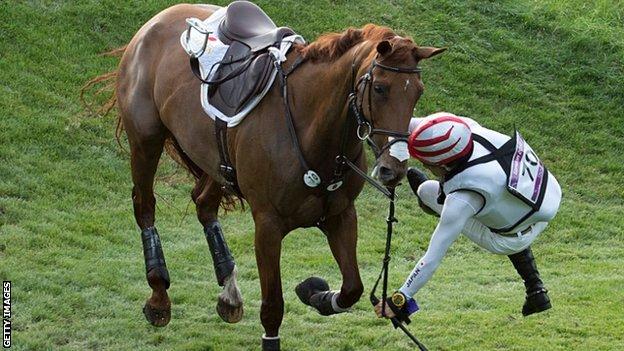 "Nobody is more frightened or nervous than I am at the start of cross-country day."
Captain Mark Phillips has an Olympic gold medal to his name but his nerves no longer come from the thrill of competition.
He is now one of eventing's top course designers, and his sleepless nights ahead of major events stem from the simple worry: have I got it right?
"When the first horse gets round safely there's a sigh of relief, but you never relax 'til the last horse has finished," he says.
"Saturday night, I'm a washed-out person. The nerves are on edge all day long because there's always that possibility for something to go wrong."
The death of New Zealand eventer Tom Gadsby, in a fall at Cheshire's Somerford Park last month, came among a series of serious injuries to other riders.
GB eventer Laura Collett suffered crush injuries to her lungs and liver in July, while fellow Briton Harry Meade broke and dislocated both elbows in a fall in Hampshire late last month.
Falls are a risk riders accept from a young age, but the sport knows it has a responsibility to do everything within its power to minimise the chance of the worst happening.
In Collett's example, a relatively new and lightweight air jacket cushioned her fall and prevented even more serious damage.
For Capt Phillips, part of the British team that won gold at the Munich 1972 Games, the challenge is designing a course that tests riders to the limit without crossing a "very fine line" and putting the well-being of rider and horse at risk.
"We cannot make this sport, any more than you can racing or skiing, categorically safe. All we can do is make it as safe as we possibly can," Capt Phillips, who has designed the course for this weekend's Burghley Horse Trials, tells BBC Sport.
"An awful lot of thought goes into the design of a course and individual fences, in terms of profile, the materials you use, take-offs, landings, the horse's understanding of the question, light and dark, colour, contrast.
"There are a multitude of factors that go into every fence, all of which are designed to give the horse every opportunity to get its feet out of the way of a fence, and to jump it clearly and safely.
"But it doesn't matter how safe you make a track for racing cars or a cross-country course for horses - there's always that possibility for accidents to happen when human beings are travelling at speed."
William Fox-Pitt, heading to Burghley on the back of a European bronze medal in Sweden and as Britain's top-ranked eventer, does not envy Capt Phillips's task.
"You've got to test the best - they need to have a challenge - yet you've got inexperienced horses and riders coming up to the level for the first time who need to be able to get around the course," says Fox-Pitt, who won his second Olympic team silver medal at London 2012.
"Designing for both ends of the spectrum is a very tough job."
As a rider, does he ever find himself consciously concerned about his safety at an event?
"Once you're on the horse and you're going, your blood's up and the challenge lies ahead. You want to get on with it," he says.
"[But beforehand] you walk the course, look at the jumps and you'd have a more critical view if you felt something was not the safest fence. There is now a rider representative at every competition to put forward riders' views, and concerns are always dealt with very seriously."
For this year's Burghley, Capt Phillips has taken a new approach to the cross-country course in the most literal sense. In a departure from previous years, it will start in the opposite direction
"That then creates a very different beginning to the course," he says. "Riders get to the arena at fence four after a minute, and the first three or four minutes this year are more intense than the past - certainly more jumping efforts.
"The riders are going to find themselves a little bit down on the clock at four minutes. Then they have to work out, over the next seven minutes, how to finish without any time faults. It's going to be a very different experience.
"It's finding that line between making it an exciting competition, a bit of a test for the horses and riders, but not going too far. That's hugely difficult and why there are not so many of us designing four-star courses around the world. We work very hard to stay the right side of the line.
"If everybody just goes galloping around the cross-country, clear inside the time, and it's a dressage and showjumping competition, nobody thanks you for that. Spectators, viewers, everybody goes, 'Well, that wasn't very exciting'. It's a very fine line."
As a sign that safety measures are advancing, Fox-Pitt cites the development of the frangible pin, which holds rails in place at jumps but breaks easily under pressure, reducing the likelihood of rotational falls - the type of fall experienced by Gadsby, Collett and Meade.
"Nothing stands still in sport or technology," agrees Capt Phillips. "We're learning all the time about what shapes to use, what materials, what works well for the horse, what doesn't.
"But the possibility for accidents to happen is there, and that's part of the thrill and excitement of top sport. We do everything we can but you can't guarantee it."