Burghley Horse Trials: William Fox-Pitt shrugs off 'frantic' flight
By Ollie Williams
BBC Olympic sports reporter
Last updated on .From the section Equestrian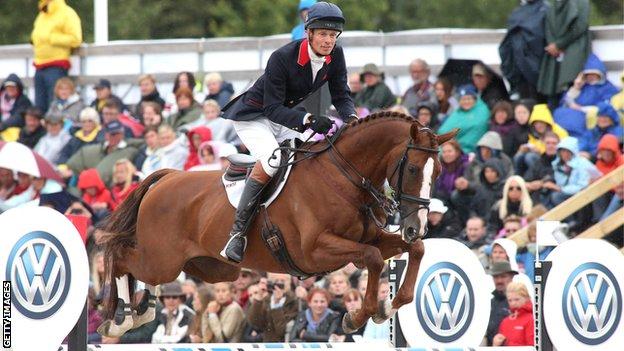 Leading British eventer William Fox-Pitt says a "frantic" journey home from the European Championships will not damage his hopes of a win at Burghley.
"It was pretty annoying and yesterday was pretty frantic," said Fox-Pitt.
"But in eventing you have to learn to be flexible and deal with the unknown."
The British team eventually found their way home via the Swedish city of Malmo and London's Stansted Airport, as opposed to their original destination of Heathrow - affecting an already tight schedule between the Euros and Burghley.
Some of the team's horses did not arrive back in the UK until Tuesday.
Fox-Pitt lies second in the world rankings, behind New Zealand's Andrew Nicholson, and expressed confidence heading into Burghley - an event he has already won a record six times - despite the unexpectedly tight turnaround.
"I'd like to think I have a good chance. I'm riding two talented, experienced horses [Parklane Hawk and Neuf des Coeurs] and if things go my way I'd very much hope to be in the shake-up," Fox-Pitt told BBC Sport.
"Burghley is a place that Parklane Hawk likes and I've been very lucky there. It's one of the most amazing competitions in the world and the biggest cross-country challenge for horse and rider.
"I've had my fair share of titles. As long as I've got a good horse to ride and I'm riding them well, I'd like to think I've got a few more chances."
Course designer Captain Mark Phillips has changed the Burghley cross-country route for this year's event, starting it in the opposite direction to previous years.
"It's not a huge departure but it's going to be a lot more interesting for the spectators - a horse in the arena every four minutes and spectators in and around the trade stands will see a lot more activity," he said.
"But it's still a four-star course with the big Burghley fences. From a rider's perspective, it's how easy they can make those big fences for their horses which determines how much petrol they have left in the tank when they get to the end."