William Fox-Pitt wins Pau international in France
Last updated on .From the section Equestrian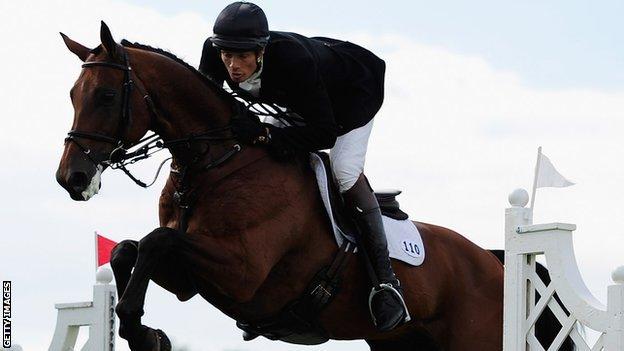 Britain's William Fox-Pitt defied a back complaint to win the Pau international event in southern France.
He held the top three places after Saturday's cross-country and was trying to become the first rider to seal a clean sweep at elite four-star level.
World number two Fox-Pitt had five showjumping fences down on Neuf des Coeurs, dropping from third to 15th.
But he held his nerve to land the top prize on Seacookie TSF and also finished third with Cool Mountain.
For Seacookie TSF it was a first four-star success after finishing second at Burghley in 2010 and Kentucky earlier this year, while Cool Mountain helped Fox-Pitt to the 2010 World Equestrian Games silver medal.
Afterwards, Fox-Pitt revealed that he had almost pulled out before the event after hurting his back during the world six and seven-year-old horse championships in Le Lion last weekend.
"I have had this wretched back that has been causing me trouble," the 44-year-old explained.
"On Wednesday, I really wasn't sure that I would be able to ride, but my physiotherapist came out and sorted me out, and thank goodness for that."
Fox-Pitt and Seacookie, the last combination to go, had a fence in hand on French rider Maxime Livio, who jumped a brilliant clear round aboard Cathar de Gamel on his four-star debut, and they prevailed despite having the first element down of a testing triple combination.
Livio finished just 0.5 penalties behind Fox-Pitt on a score of 46.0, with Cool Mountain posting 46.2. American Phillip Dutton was fourth on Mr Medicott, and New Zealand's world number one Andrew Nicholson fifth with Mr Cruise Control.