Tina Cook rediscovers drive to compete at Rio 2016
Last updated on .From the section Equestrian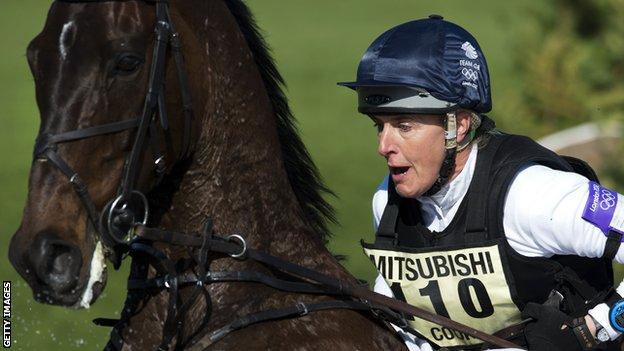 Findon eventer Tina Cook says she has a renewed determination to compete at the Rio Olympics in 2016.
"After London I wasn't sure. So much went into it that, mentally and physically," she told BBC Sussex.
"This year has been a good one. All the horses that I have ridden have met their targets and I feel as keen and as driven as ever."
Cook says a resolve to become an Olympic champion is driving her on to represent Team GB again, despite being wary of competition for selection.
"Every athlete or any sportsman would love gold," she said. "I've won European gold [in France in 2009] and that was a very special day for me.
"To get to an Olympics is an achievement in itself and to come home with a medal is an achievement in itself.
"Last year we got team silver and we weren't that far off getting a gold. It was quite frustrating at the time but then afterwards you think about what could have gone wrong.
"We were very close to getting gold and if I get to Rio there are so many people trying for those positions. I'll be going for it."
Cook added that she believes she will still be capable of performing on the international stage come 2016.
"I ride for about five hours every day and as long as you look after yourself, within reason, I don't see why not," she said.
"Most of the work is done by the horses.
"We have a lot of care through lottery funding and access to physios which we would never have had about 10 years ago. It is keeping a lot of the riders going until later."
Having ridden Miners Frolic at Beijing 2008 and in London, Cook has been competing recently on De Novo News.
She believes the 10-year-old, who she bred at her yard in West Sussex, is showing potential for the future.
"He looks like he might be a Rio possibility so I am really excited," she said.
"I rode his mother to top level and then she gained an injury so therefore there was no value [in her] so I thought we'd breed from her. She had five foals and this is the first foal.
"This is one way I can earn some money as the prize money is pretty low in our sport. I sold him to an owner and continue riding him.
"If he ends up being a superstar it will be brilliant for his brothers and sisters as well.
"He's been in serious competition this year and people are noticing him.
"He will be back in training in November and the events start in March, with Badminton Horse Trials in May.
"That is a good place to put in a performance and there is prize money to be won."