BBC Sport - FEI World Cup Jumping: Christian Ahlmann wins in Verona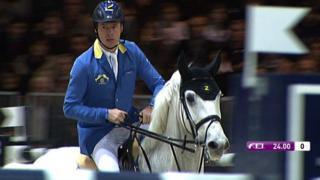 Ahlmann jumps to victory in Verona
Germany's Christian Ahlmann wins the third leg of the Longines FEI World Cup Jumping Western European League series in Verona, Italy.
The 2011 FEI World Cup Jumping champion borrowed a horse from his partner, Judy-Ann Melchior, at the last moment, and won a thrilling 12-horse jump-off against the clock on 12-year-old gelding Aragon Z.
Great Britain's Scott Brash leads the standings after finishing second on Ursula Xll, while Italy's Luca Moneta pleased the home crowd by finishing third on Neptune Brecourt.
Available to international users only.