Jonathan Paget: Burghley-winning rider set to lose title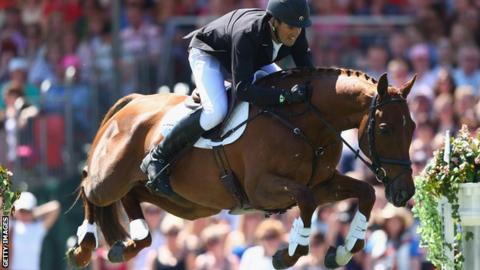 New Zealand rider Jonathan Paget is set to lose his Burghley title after his horse failed a drugs test.
Paget, 30, and Clifton Promise were provisionally suspended last month after the horse tested positive for the banned tranquiliser Reserpine.
A B sample has confirmed the result and Paget's Burghley title is set to be taken away at an Equestrian Federation (FEI) tribunal early next year.
Paget said: "I will continue to work... to provide a full explanation."
Clifton Promise was tested following his victory at the Burghley International Horse Trials on 8 September.
Equestrian Sports New Zealand (ESNZ) chief executive Jim Ellis told ONE News: "What this now means is a rule violation has occurred and Jock [Paget] must now provide a plausible and satisfactory explanation to the FEI over the coming months."
Ellis said he was "confident" Paget would be able to do so but added: "The Burghley title will be lost as a result of this, the rule violation makes that automatic.
"The FEI's tribunal will consider a period of suspension, taking into account the evidence and the facts of the matter. I really can't pre-empt that."
Badminton winner Paget has been suspended from any "official ESNZ activity" while the legal process is under way