Horse riders Benjamin Winter & Jordan McDonald die in falls
By Lizzie Greenwood-Hughes
BBC Sport equestrian commentator, in Germany
Last updated on .From the section Equestrian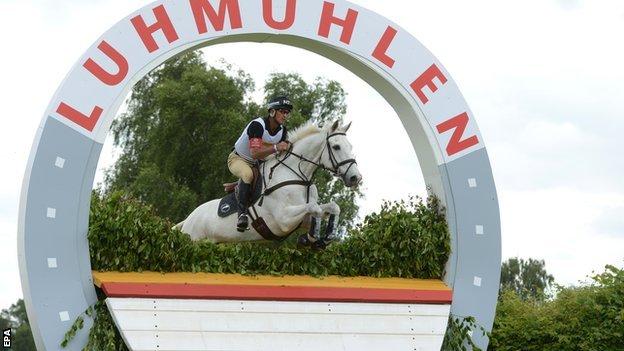 Rider Benjamin Winter has died after a fall at a top-level eventing competition.
The 25-year-old German's horse Ispo landed on top of him during the cross-country phase of the Luhmuhlen Horse Trials in his homeland.
Captain Mark Phillips, course designer and former Olympian, said the incident left him "sick to the stomach".
Earlier on Saturday, Canadian rider Jordan McDonald, 30, died at the Nunney International Horse Trials in Somerset.
Winter, from Dortmund, was lying 14th after the dressage and had completed the cross-country circuit without errors on another horse, Wild Thing, earlier on Saturday.
But as he jumped fence 20 on Ispo he suffered a 'rotational fall' and was crushed beneath the horse.
He was wearing an air jacket safety device, which inflates when a rider leaves the saddle - but was pronounced dead on arrival at hospital.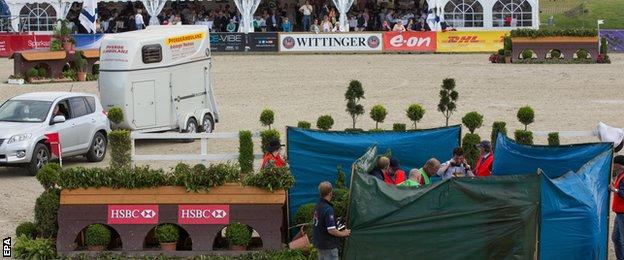 Captain Phillips told the BBC: "I am sick to my stomach. A lot of people thought the course was easier than last year and we had perfect conditions today. Yet we had too many falls - six riders and two horses.
"When we have bad accidents at simple straightforward fences, where do we go? What do we do?"
Event organisers said in a statement: "On behalf of the whole sport, we would like to extend our deepest sympathy to Benjamin's family.''
Ispo, a 10-year-old gelding, was uninjured in the fall. In a separate incident another horse, Liberal - a 15-year-old gelding ridden by British rider Tom Crisp - collapsed and died after clearing a jump.
David O'Connor, part of the sport's governing body, the Federation Equestre Internationale, said it would "look into this and reflect on what we accept".
"We take our job very seriously to minimise risk with design and qualifications," he added. "There is no way to take all the risk away. "
The competition is due to continue on Sunday with the final show-jumping phase.
Britain's Oliver Townend lies in fourth place on Black Tie, with fellow Briton William Fox-Pitt, New Zealand's Mark Todd, German Michael Jung and Lucinda Fredericks of Australia among the other leading riders taking part.