World Equestrian Games: Joanne Eccles retains vaulting crown
By Ollie Williams
Olympic sports reporter in Caen
Last updated on .From the section Equestrian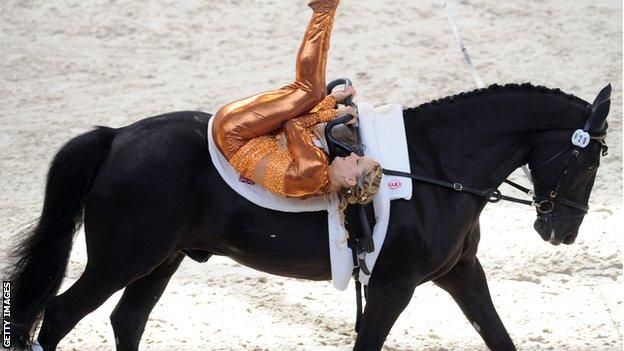 Great Britain's Joanne Eccles retained her vaulting world title at the World Equestrian Games in France on Friday.
The 25-year-old dentist from Kinross won gold in her sport - which features gymnastics on horseback - after four days of competition in Caen, Normandy.
"It's an amazing feeling. We've been working hard this year but we wanted to come here and have a good time," Eccles told BBC Sport.
"We had nothing to prove. We wanted to show off what we could do."
In a week where British showjumpers failed to reach the latter stages of either their team or individual competitions, the focus instead fell on Eccles, who returns to work at her dental practice on Monday.
The Scot won gold at the last World Equestrian Games - in the US state of Kentucky four years ago - but upped her game in France with a complex routine involving one-handed handstands on her horse, Henry.
Her father John took part in the contest as the 'lunger' - a person who controls the horse's circular movement from the centre of the ring. The lunger and horse earn marks alongside the athlete.
"I leave absolutely everything to do with the horse up to dad. Dad is the key to it all," said Joanne.
"I just needed to be confident in what I can do. To be able to go out there with that crowd - there were so many British spectators in there - it gives you such a good feeling from the start."
Joanne's younger sister Hannah finished ninth, with GB team-mate Lucy Phillips 12th.
Italy and Switzerland took silver and bronze respectively.