Burghley Horse Trials: Jonathan Paget well placed to reclaim title
Last updated on .From the section Equestrian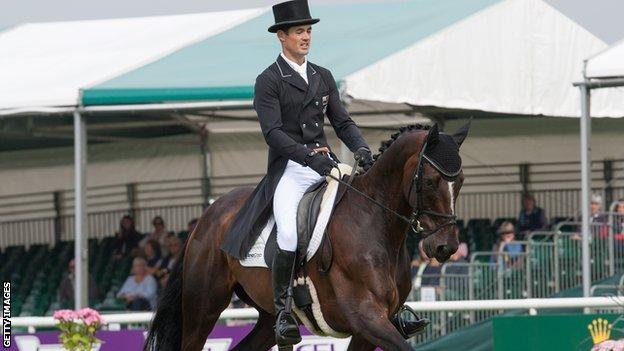 New Zealander Jonathan Paget is in a strong position to regain the Burghley Horse Trials title that was stripped from him earlier this year after an impressive dressage display on Friday.
Paget leads aboard Clifton Promise after a score of 38.8 penalties.
This is 0.7 ahead of six-time champion William Fox-Pitt, while Badminton title holder Sam Griffiths is third.
A failed drug test saw Paget lose the title he won last year, although he was later cleared of any wrongdoing.
Clifton Promise tested positive for banned tranquiliser Reserpine at the 2013 event, which ultimately resulted in him being stripped of the title and runner-up Andrew Nicholson was promoted to top spot aboard Avebury.
Paget's provisional suspension was lifted in early June, and he was eventually cleared of any wrongdoing by a Federation Equestre Internationale after proving the positive test was caused by a contaminated feed supplement.
This did not reverse the decision to strip Paget of the title, but he made the perfect start to his attempts to reclaim the crown with an impressive display on Friday.
"I knew I had a very good chance of getting back to compete here this year because I knew the case, obviously," said the 30-year-old. "It is nice to be back here and nice to be back here on this horse.
"He is so professional, this horse, and he knows his job so well. He gave me everything, like he always does.
"It's not so much for me about showing everybody. I have an amazing horse, and I just try to make the most of my horse while I have him."
Just 1.7 penalties cover the top four combinations prior to Saturday's cross-country test, with Brit Fox-Pitt, Australian Griffiths and fourth-placed Nicholson.